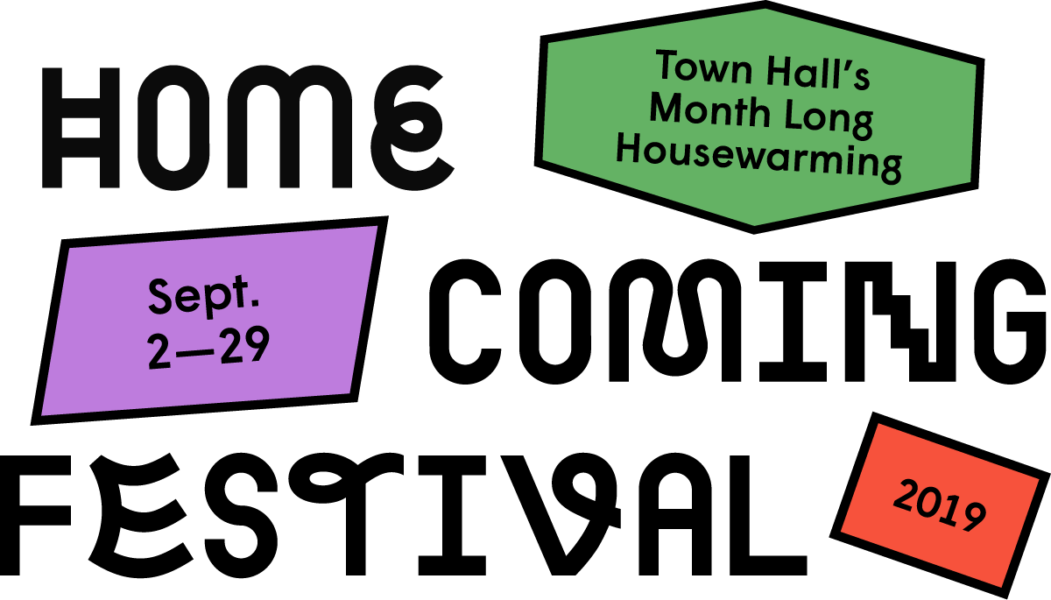 Town Hall Seattle's soft-launch winds down as we prepare for our month-long grand reopening festival in September. The festival marks twin milestones: the successful completion of a $35 million renovation of our historic home and the kick-off for the organization's 20th anniversary season.
Homecoming Festival is a community-wide invitation to explore the renovated Town Hall and experience its new features and capacities, including its newest performance space (The Reading Room) and transformed downstairs space (the Forum). Locals already familiar with Town Hall will appreciate the signature wide-range of topics and perspectives presented—as well as the price point. Nearly all festival tickets are just $5, and now, all events produced by Town Hall are free for everyone aged 22 and younger (made possible through support from the Seattle Office of Arts & Culture).
Homecoming opens on Labor Day (9/2) with former Secretary of Labor Robert Reich and Rep. Pramila Jayapal. The two will hold court in the Great Hall to discuss the state of American politics and the labor movement as they unpack Reich's call for our country to reinvest in the common good.
Town Hall will show off its upgraded acoustics with concerts ranging from world music stars like Garifuna Collective to kindie-rocker Caspar Babypants. Likewise, the building's new A/V and technical capacities make it an ideal home for live podcast tapings (such as Vox Media's The Weeds) and performance art (Seattle-based performer HATLO is the Homecoming Artist-in-Residence). Details for these events are still being finalized.
Highlighting Town Hall's role as a shared community platform, Town Hall is augmenting their lineup of marquee thought-leaders and homegrown talents with pre- and post-show conversations, locally-curated programs, and artist takeovers (where artists and artist collectives take over Town Hall's building and transform it through their work for the day). Notably, artist collective TUF will take over the building with concerts, panel discussions, and hands-on workshops, creating spaces to connect and collaborate with a focus on uplifting marginalized identities and challenges white-cis-male power structures within electronic music, art, and media.
More details, parties, and programs will be announced throughout the summer. Tickets go on sale to Town Hall members July 1; public sale begins July 3. More about the festival can be found here.
Select Homecoming Programs:
9/2 – Labor Day with Robert Reich and Representative Pramila Jayapal
Robert Reich joins Congresswoman Pramila Jayapal for a Labor Day exploration of American politics, vicious cycles, and the common good.
9/5 – Keeanga-Yamahtta Taylor: From #BlackLivesMatter to Black Liberation
Taylor calls us together to reflect on the five years since Ferguson and the future of #BlackLivesMatter.
9/7 – Caspar Babypants: Back-to-back Saturday Family Concerts
Families are invited to launch of Babypants' new children's album with back-to-back concerts in the Great Hall.
9/7 – Suzan-Lori Parks: Town Hall Takeover (to be announced)
Pulitzer Prize-winning playwright takes over the building with workshops, a concert, and a public performance of new work commissioned as a re-inauguration of the Great Hall
9/8 – Rick Steves: Guatemala, Ethiopia, Hunger, and Hope
Travel TV host Rick Steves expands on his passion for travel as a political act and shares the impact of aid helping people battle poverty around the globe.
9/10 – Vox: The Weeds Podcast Live
Vox voices and regular hosts Matthew Yglesias, Jane Coaston, and David Robert take the stage for a live recording of their podcast delving into the areas where politics becomes policy.
9/11 – Roxanne Dunbar-Ortiz: An Indigenous Peoples' History of the US for Young People 
Roxanne Dunbar-Ortiz examines the legacy of Indigenous peoples' resistance, resilience, and steadfast fight against imperialism.
9/13 – Marilynne Robinson: What Are We Doing Here?
Author Marilynne Robinson investigates how great thinkers about America like Emerson and Tocqueville inform our political consciousness.
9/14 – Ibram X. Kendi: How to Be an Antiracist
Ibram X. Kendi energizes our conversations of racial justice, and examines what it means to be an antiracist.
9/15 – June Diane Raphael: The Woman's Guide to Running for Office and Changing the World
Actor and activist June Diane Raphael presents a practical roadmap for women running for office.
9/16 – Samantha Power: The Education of an Idealist
Samantha Power traces her career as a war correspondent and offers an uplifting treatise for those dedicated to making a difference.
9/20 – Brad Smith: Promise and Peril in the Digital Age
Microsoft President Brad Smith confronts cybercrime, privacy problems, and big tech's relationship to inequity.
9/21 – TUF Art Collective: Town Hall Takeover
TUF takes over Town Hall too challenge white-cis-male power structures within electronic music, art, and media. With workshops and showcase they create opportunities to connect and collaborate through new media.
9/24 – Naomi Klein: The Burning Case for a Green New Deal
Klein investigates the discussion of our modern climate crisis and presents an urgent case for a Green New Deal.
9/25 – Jonathan Safran Foer: Saving the Planet Begins at Breakfast
Author Jonathan Safran Foer offers us a new approach to saving the planet from climate change: breakfast.
9/28 – Town Green Service Day
Volunteer at Yesler Terrace's Yes Farm to help cultivate the space with Black Farmers Collective.

Full calendar of currently announced programs available here.
We're looking forward to having you join us for a month-long housewarming!