As a practice of recognition, land acknowledgment has the capacity to create broader public awareness of the histories that have led to this moment. On its own, acknowledgment is a small gesture. But when combined with efforts towards cultivating authentic, equitable relationships and informed action that benefits native people, reconciliation and accompliceship become possible. As a space of knowledge and community gathering, Town Hall Seattle embarked on a journey in which we could ask ourselves as an institution, "What do we have to offer?" and "How can we make an impact?" 
In Summer 2019, Town Hall invited Urban Native Education Alliance (UNEA) to serve as artists in residence. UNEA convened an intergenerational group of native elders and youth to create a formal Land Acknowledgement for Town Hall that honors the indigenous history and celebrates the indigenous present and future of the land we occupy. UNEA's Clear Sky Native Youth Council drew inspiration from oral and documented histories, and Land Acknowledgements created by indigenous First Nations in New Zealand, Australia, Canada, and parts of the United States to write their statement. 
Clear Sky Native Youth participated in two workshops and met with Snoqualmie Tribe Chief Andy De Los Angeles. Chief Andy De Los Angeles is a direct descendant of dᶻakʷ'yus ("Doctor James Zackuse"), the Lake Union Duwamish district chief and the Healer at Licton Springs who cured David Denny's daughter of a skin disease that Euro-American doctors could not cure. 
Town Hall's collaboration with Clear Sky Native Youth Council resulted in this written Land Acknowledgement: 
We acknowledge that we are in the homeland of Chief Seattle's dxw'dəwɁábš (People-of-the-Inside, the Duwamish Tribe of Indians), the First People of this land.  The Duwamish are the first Indian Tribe named in the 1855 Point Elliott Treaty's title.  On January 22, 1855, Chief Seattle was the first signatory to the Point Elliott Treaty at Mukilteo.  Three other chiefs signed the Point Elliott Treaty on behalf of the Duwamish Tribe.  The Duwamish homeland extends from Lake Sammamish west to Elliott Bay, and from Mukilteo south to Federal Way, a total of 54,700 acres. 
The Snoqualmie, Suquamish, Tulalip and Muckleshoot Tribes are also sovereign nations indigenous to Puget Sound. Many people living at these sovereign nations and elsewhere are descendants of the Duwamish Tribe and have ancestral ties to this land. 
We raise our hands to honor Chief Seattle's Duwamish Tribe of Indians and all descendants of the Duwamish Tribe. We thank them for their hospitality as the First People of this land, and for our continuing use of the natural resources of their Ancestral Homeland. 
Indigenous contributions and sacrifices are immense, and we acknowledge the ongoing disparities, racism, and political invisibility experienced by the Duwamish and other Indigenous Peoples of Puget Sound. 
In early 2020, we considered the possibility of creating a physical presence in our building that could make UNEA's statement more visible. Back in our newly remodeled facilities, programming staff raised the idea of placing a sign or plaque in the building that could remind visitors of indigenous displacement. We realized that it was an opportunity to engage with the community that created the work to determine how the piece should be physically represented in the space. It wasn't ours to interpret, especially as a gathering space committed to full participation and shared power with diverse groups and active collaboration with our community. It felt like the most authentic way to do that was to extend the collaboration with the Native community. This led us to issue a public call for proposals targeted towards Native artists.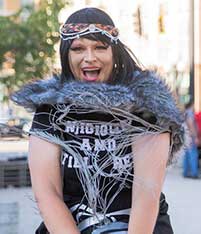 Hailey Tayathy (Quileute Nation) had attended Town Hall programs in the past that featured native voices and saw the public art commission as a way for us to open a path towards better supporting indigenous artists.  
Tayathy is critical of Land Acknowledgments, as they are often oversimplified euphemisms for genocide. But the Artist in Residence program presented a significant opportunity: To incorporate and uplift indigenous voices. In sharing our platform for leading cultural conversations, Town Hall went beyond gestures. We wanted to give power to our community members.  
The selection committee reviewed a pool of half a dozen eligible artists. Made up of UNEA youth Alex Escarcega (Assiniboine Sioux), UNEA board member Marcus Shriver (non native), and artist John Romero (Eastern Shoshone), the group selected Tayathy's proposal and invited them to complete a residency over the summer. While Tayathy is known as a fiber artist and clothing maker, their work as a Native American drag queen in the Seattle community, often involves collaboration and work with performance collectives. 
Tayathy's design takes its inspiration from Coast Salish wool blanket weaving. Instead of using traditional weaving methods, their tapestry uses wool melton squares laid out in a chevron motif to mimic a Coast Salish pattern. Each square is appliqued by hand onto a cotton quilt backing. An extremely time-intensive practice, Tayathy's original approach represents a departure from traditional methods to innovate and reimagine craft. 
The central image of the tapestry focuses on the structure of a longhouse, where various indigenous people gather together. Symbolizing the native reclaiming of space within Town Hall itself, Tayathy's piece depicts multiple representations of regional tribal groups.  
Town Hall Program Manager Megan Castillo expressed surprise at the development of the artwork. "Our expectations shifted and the collaboration became a huge learning opportunity. Hailey incorporated Coast Salish youth [into the project]. Going into it, we thought we'd have a conversation about the Duwamish."  
Tayathy went into the community and asked native artists to contribute to the commission. Jac Trautman (Duwamish) contributed an abstract black-and-white photographic portrait made with a long exposure, while Tyson Simmons (Muckleshoot), created a stylized mask that complements Tayathy's visual representation of Coast Salish people.  
Since fabrication started, Tayathy has worked each weekend for 20 to 24 hours on the project. Sewing alone has taken close to 200 hours. They experimented with a number of image transfer methods to incorporate Duwamish photographer Jac Trautman's imagery into the tapestry. Ultimately, Trautman's contribution will be custom printed on fabric and then sewn onto the tapestry. Currently, Tayathy is also working to identify a Suquamish artist who will contribute to the piece.  
Tayathy hopes to complete their commission by November 2020. 
---
Editor's Note: 
Participants in creating this Clear Sky Land Acknowledgement included Alexander, Asia, Alex, Akichita, Chayton, Cante, Snoqualmie Tribe Chief Andy De Los Angeles, Snoqualmie Tribe member Sabeqwa De Los Angeles, past UNEA program director AJ Oguara, and UNEA Elder and Duwamish Tribe member Tom Speer. 
This document was prepared by lakw'alás (Place-of-the-Fire, Tom Speer), dxw'dəwɁábš (People-of-the-Inside, the Duwamish Tribe of Indians, the Duwamish First Nation), at dzidzəlál'ič (Little-Place-Where-One-Crosses-Over, Chief Seattle City).