In the wake of the coronavirus pandemic, many historically marginalized groups are finding themselves facing prejudice, animosity, and rejection by a system already stacked against them. But South Seattle Emerald founder Marcus Harrison Green is stepping forward as proof that if you speak loudly enough, your voice can still triumph, even from the margins.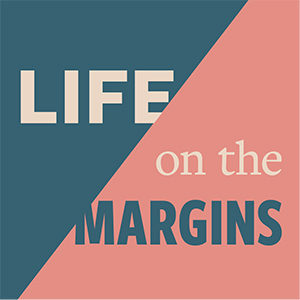 In a typical Town Hall season, we select Artists or Scholars in Residence and give them the literal keys to the building so they can engage with our programs and develop original events for the community. This year, in consideration of the current global crisis, we're altering our Residency platform to present a podcast residency.
In partnership with South Seattle Emerald, Town Hall presents Life on the Margins. Co-hosts Marcus Harrison Green, Enrique Cerna, and Jini Palmer share stories not just about marginalized communities, but from within, and alongside them. In each bi-weekly installment of this residency podcast, they engage with the narratives and experiences of our city, sharing them more widely with the Town Hall community.

---
Alexander Eby: Back in 2017 you served as Town Hall's Scholar In Residence. What's got you excited to be working with Town Hall again?
Marcus Harrison Green: It's great, to be honest with you I feel almost as if I never left. Town Hall is such a central hub of the city when it comes to civic engagement, when it comes to featuring  public intellectuals, provisions of space for communities to come to and gather together and feel as if they are a part of the fabric of the city. Even after I left as the Scholar In Residence I would still go and participate in talks, I would go to and attend talks that were very insightful life affirming and challenging. And, well I'm not a really religious person, but I imagine it's like the feeling of having worked at a church for a while as a youth minister or what have you, and then shifting to becoming a congregant. So even though I wasn't necessarily there in an official capacity anymore, I was certainly there in intellectual or an emotional one. So it's almost as if I never left.
I think the Beach Boys said something like this once, trying to create an experience where people can go from it, but can never leave it. And that's really what Town Hall is to me. Even though I've gone from the physical space, it stays with you. It makes an indelible imprint upon you.
AE: Can you tell me a bit about Life On The Margins? What inspired this project?
MHG: I think for us—myself and my co-hosts Enrique Cerna and Jini Palmer—I think like anyone, we're all consumers of media, whether that's broadcast or printed or digital. For us, this podcast came about because we were seeing a need that wasn't met, and conversations that weren't being had with any regularity on a lot of mainstream platforms. We really wanted to hone in on what's been going on with marginalized communities, on their stories. Our city and county, certainly before the coronavirus, have been seeing this shift and reconfiguration. And even now I think it's more important when you have this pandemic that we're all experiencing, and the potential for certain communities, especially communities of color, to be disproportionately hurt. 
I know that the early local numbers don't quite match to what's been going on nationally—I think in Louisiana, 70% of the deaths that have been recorded are African-America, and there's been a huge surge of COVID cases in the Latino community. If these numbers are any indication, it'll be communities of color who will be hurt the most. And I think that even though we are empathizing with and featuring the stories of communities of color,  this is still something that affects people who are within our community, within the fabric of Seattle and King County. These are stories that affect us all, so we're just trying to bring some light where darkness once was.
AE: With the quarantine directly affecting everyone's lives right now, the first episode of Life On The Margins is very much reflective of this moment in time. What kind of direction do you hope to take the show in future episodes? 
MHG: We definitely want to make this a longer-running podcast series, and this is just season 1. We felt that, given the current state of the world, that would certainly be a good topic to explore in this 6-episode run. So that will be the thrust of it for the first few episodes, but obviously life is large, so we want to try to highlight other things that are going on. And we're definitely acknowledging that people are experiencing some COVID fatigue, shall we say, and many folks want to take their minds off of what's going on around them. 
AE: I'm curious about your thoughts on this—the idea of self-isolation and quarantine as a sort of blueprint for collective action. Once the quarantines are lifted, how can we use this shared experience to motivate ourselves and others to show up for other causes and make change in other parts of society?
MHG: We keep hearing this mantra repeatedly right now, "we're all in this together." One of the things this time of quarantine has given us is to be somewhat introspective and contemplative. I think that's allowed people to interrogate and examine what that actually means, for all of us to be in this together. What does that look like in practice? Lots of people are scanning fundraising pages for different organizations and thinking about their $1200 stimulus check, thinking maybe they don't necessarily need all of it. I know this is all indefinite, but I think when all of this is over it will have shown us that if we can come together in the worst of times, why can't we in the best of times? 
I think we're going to see an awakening, an acknowledgement of other people's humanity and empathy. I people on my daily walk, people who used to hurry to pass you by—now their cadence is slower and more deliberate, and they actually wave and say hi. This is a period where we can use this time to look within ourselves and learn to extend our locus of concern to other people.
AE: What's on your quarantine reading list? 
MHG: Right now it's a lot of the Stoics. I'm in the middle of reading Meditations by Marcus Aurelius. It poses a question a question to me that's applicable not just to this time period but to life in general, which challenges me to wake up every morning and face this strangeness and uncertainty and ask myself "how do I want to be remembered in this time, and how do I want to remember myself in this time?" Was I a better friend, a better son, a better roommate? Did I cultivate resilience? Was I kind, was I generous? Was I somebody who I was proud to be? And I think anything that can challenge you day by day to be a person who's better because they've endured the worst. I know it's a 3000-year-old text, but that still resonated with me.
I've also been reading How To Be An Antiracist by Ibram X Kendi, Nickel And Dimed by Barbara Ehrenreich. Then there's Winners Take All by Anand Giridharadas, and I'm about to start Pleasure Activism by Adrienne Maree Brown—I'm trying to knock out about one a week. 
AE: Who do you have lined up for future guests on the show?
MHG: We're definitely trying to get a range of people, to strike a balance between the sort of well-known figures and everyday people, if you will. We'll certainly have a mixture. At the end of the day, what we sought out with our guests was people who had an interesting story, or an interesting take or stance to share with our listenership. We do have Luis Rodriguez coming up actually on the next episode. He and his wife Leona are very prominent because of their famed and venerable coffee shop called The Station coffee house, which is continuing to help serve people in need and bring people together.
AE: What's one message you want to send to listeners of Life On The Margins, and to Seattle in general? 
MHG: I would say that we have an opportunity here to really sit still and really examine life as it is, and ask if we want it to continue to be this way. I think it's time to really focus on what matters, and to maybe rethink things. We're always in this frenzy of life, we barely have time to think because we always have to move on to the next thing and the next thing after that. And now we have the time to not take things for granted—just saying hello in a coffee shop, sending a message to a loved one expressing that you care. This is the kind of time where we can value life more than we have done and cherish it more than we have done. How do we want to show up in this world today, how do I want to be present, what do I want to take away? That's something we can do now, and I hope it's something we can bring forward into the future.
Listen to Marcus Harrison Green, in conversation with Jini Palmer and Enrique Cerna plus special guests, every two weeks with new episodes of Life On The Margins!