It was on my birthday, October 1 of last year, that I first met Sikh Captain America—Vishavjit Singh. He made an appearance at Town Hall discussing battling stereotypes, fighting racism, and overcoming intolerance. We talked plenty before the event, prepping for it, becoming email chums. I profiled him before his appearance here.
Before Sikh Captain America came to town, we decided to put him on the cover of our October print calendar to help publicize the month's events. I asked the photographer who shot it, Nate Gowdy, if we could use it for the calendar. He said, 'No problem.' Further, he said he was going to be there that night to shoot pictures on his own.
My former sister-in-law, Christie Skoorsmith, joined me for the night. Inspired by Singh's talk, she asked during the Q&A, "You mentioned that anyone can be Captain America. Everyone IS Captain America. Have you ever thought about having a photo shoot where people from all walks of life are dressed up like Captain America like you? I have two transgender kids. They would love to be a part of something like that."
Singh responded, "That's a good idea." Gowdy, in attendance, talked to Skoorsmith after the show. "That's a good idea." They all agreed—they should actually do it.
A week and some ago, they actually did it.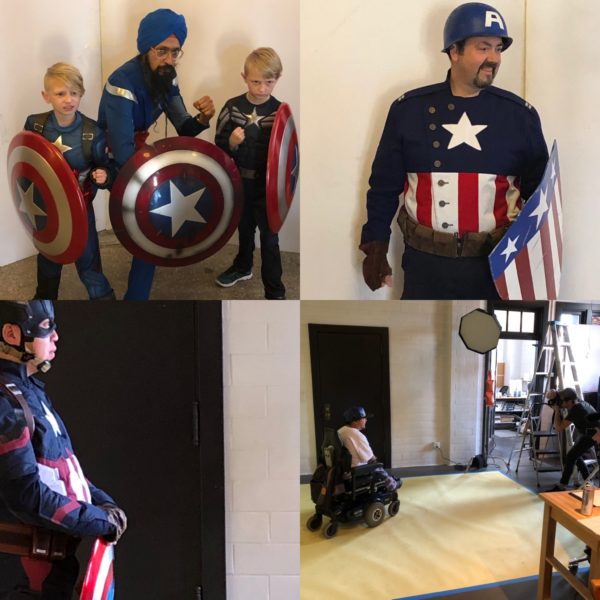 Now collaboratively called the "American Superhero Project," they brought in superheroes of all races, ages, genders, and walks of life for photographic portraits and to share their stories with Singh about what it means to be American. There were over 40 participants. They did all this with a team of ten volunteers to help make the shoot run smoothly.
What's next? They're planning on connecting with national publications, such as the New York Times and Time magazine, to see if they are interested in giving the project a home. They're also hoping on taking the photo shoot to other cities to get a broader swath of Americans in all their wondrous diversity.
Further, there were two videographers on site at what was once the United States Immigrant Station and Assay Office. The videographers recorded personal interviews done by the participants and Singh. They also captured behind-the-scenes footage of the shoot as a whole. The team thinks there's enough inspiring footage for the makings of a Netflix documentary. All of this is still in its infancy, but there is much to be excited about as the project moves forward.
After the weekend photo shoot completed, Singh remarked that it was one of the most memorable days of his life, especially in uniform as Sikh Captain America. Gowdy, a professional photographer with years of experience under his belt, said he had never been prouder in making photos.
We at Town Hall are honored to play the small part in bringing these people together. It's just another way in which we strive to fulfill our mission of giving everyone a voice.