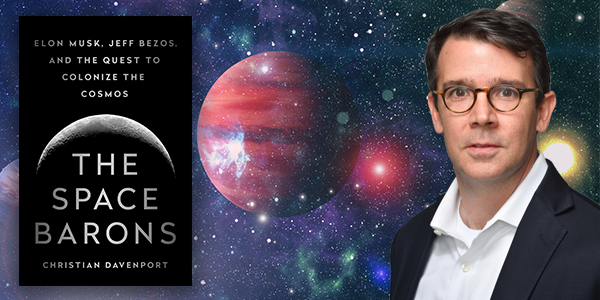 In 2017, Silicon Valley entrepreneur Elon Musk's company SpaceX successfully landed a reusable rocket booster. Later this year, Virgin Galactic—the spacefaring spinoff of Richard Branson's Virgin Airlines—intends to take tourists into suborbital flight. And here in the Pacific Northwest, Amazon founder Jeff Bezos's true passion is his commercial space company Blue Origin. According to journalist Christian Davenport, a staff-writer at the Washington Post, this flurry of activity marks the beginning of a new era of space exploration and a brand new space race: not between nations but between private companies and the eccentric billionaires driving them.
Davenport tells this story in his new book The Space Barons: Elon Musk, Jeff Bezos, and the Quest to Colonize the Cosmos. He'll be speaking about the book at a Town Hall event at Seattle's Museum of Flight on Wednesday, April 25th. But in the meantime, Town Hall's Alexander Eby spoke with Christian Davenport about this new frontier and whether he'll be in line for a ticket to the stars.
Get tickets for The Space Barons and the Quest to Colonize the Cosmos on April 25.
---
AE: Who are the Space Barons?
             CD: In the book I focus on Elon Musk, Jeff Bezos, Richard Branson and Paul Allen. I think what makes them interesting is that all of them obviously have enormous wealth and come from a Silicon Valley background or ethos and saw space as a dynamic new frontier that was ripe for disruption and innovation. Their approaches are different, their personalities are different, but what unites them is that they made their fortunes elsewhere focusing on very different industries. Elon Musk has worked at PayPal and Tesla, Jeff Bezos founded Amazon, Paul Allen co-founded Microsoft with Bill Gates and Richard Branson has a myriad of companies. They all have experience in business and entrepreneurship and going up against big industries like Amazon taking on Barnes and Noble and the book industry, and Elon Musk with Tesla taking on virtually all of Detroit. But I think Space presents to them perhaps the biggest challenge of all. It's the most difficult and I think the reason why they chose it is that it's something they're really, truly passionate about.
These guys coming at these different projects from the perspective of entrepreneurs… it's right there in the title 'The Quest to Colonize the Cosmos'. This is ultimately public-facing. The goal is to put people into space.
             That's right. Particularly with SpaceX and Blue Origin and Virgin Galactic that's their main goal. There's only something like 550-560 people who have ever been to space. In a lot of cases they grew up watching the Apollo era and seeing people in space. Elon said a year ago: it's 2018 we should have a base on the moon by now. That's clearly a goal of Blue Origin's right now. They clearly are focused on human space flight and getting people into space.
When Jeff is asked about this—"aren't these tourism trips up to space just trivial, like going on a rollercoaster ride?"—he has two responses. One is that it's really good practice. You're not going to get good at something you do a half dozen or a dozen times a year. To really get good at space you have to launch repeatedly, to do it over and over again which is what they hope to do with these suborbital spaceflights. Then: when you get up there you have a few minutes of weightlessness, you unbuckle your seatbelt and float around the cabin of the spacecraft, you're able to look at the windows and see the curvature of the Earth: the globe without any lines delineating countries, the thin veneer of the atmosphere. People talk about that being a transformative effect. If these companies are able to get more people out into space and have that experience, where it comes to the point that you know someone whose gone to space or know someone who knows someone and that begins to spread, that could have a transformative effect on our society.
Is it the sort of thing you expect will happen in our lifetimes?
             I think the first suborbital flights might be as soon as this year, might be next year. Virgin Galactic is gunning for this year, although they had a setback in 2014 with a fatal crash that killed a co-pilot. Obviously it's very dangerous and a huge challenge but they're getting close. I think Blue Origin is getting close as well. SpaceX has been hired by NASA to fly astronauts to the International Space Station. It now currently flies cargo and supplies and experiments to the International Space Station and its next step is to fly humans there.
Is it a trip you would take if you could?
             When I met with Jeff Bezos and Richard Branson, ahead of the meeting I went to the NASA archives and pulled the journalist-in-space application. A lot of people forget that NASA had a journalist-in-space program that was cancelled after the space shuttle challenger blew up. People remember the teacher who was onboard that flight because there was a teacher-in-space program. They also had planned to do a journalist-in-space program. So I submitted my application to Jeff and to Richard. I haven't heard back yet, though I don't think I want to be on the first flights. I'll let them fly a few times and get the kinks out and then I'd consider it.
What's your first planet destination?
             As Jeff Bezos likes to say, there's nothing quite like Earth! I think I'd be earthbound and watch others do that and explore (I've got young kids and a family). But I do think there are people who would want to go. We've got a permanent presence in space now on the International Space Station. The goal of NASA now under the Trump administration and the goal of SpaceX and Boeing and Lockheed Martin and Blue Origin and some of these other companies is to work with NASA to create a permanent presence deeper into space: on the moon or in the vicinity of the moon. We went to the moon in the 60s and early 70s and left flags and footprints and came back, but the goal is to establish a longer term presence there that could then be used as a stepping stone to get deeper into space and to Mars.
It sounds a lot like Science Fiction!
It does. When we're thinking about mining asteroids, or Jeff's goal of millions of people living and working in space, that's the big distant goal that's hundreds of years out. But the first step to get there is to make access to space much more affordable, economical and reliable by building a transportation network to the stars. Just like the railroads opening up the west. Right now it's just too hard to get to space. It's too expensive. They want to lower that cost, make it much more affordable and much more accessible
Then help other people establish a further foothold into space once they've got that foot through the door?
             That's the idea, that they create the stepping stone and that other people follow in their footsteps and other industries emerge. We're already starting to see that. What we're talking about is the launch providers—the guys who just lift stuff off the surface of the Earth and get it into space. But once you're in space there's all kinds of things you can do. We've seen companies like Bigelow Aerospace that's for years has been building habitats that expand—I don't think they like the analogy but it's a little like a balloon. They're made of a very durable kevlar-like material and filled up with air and pressurized and become habitats, become space-stations and that's another commercial company.
There's a company called Made In Space that's using 3D printers to manufacture in space. You've got the small satellite revolution: companies like Planet that are already putting up many small satellites to monitor the health of the earth. Then there are all the things that once you get up to space and it does get more accessible that you don't know will happen. You can't always tell what opportunities that will open up.
It boggles the mind to think that this is something we might see.
             I try to lay that out in the book. Whatever happens, let's not forget that space is hard. There are setbacks and delays and not all of these dreams are fulfilled in a timely manner. But I do think that this is a time that we'll look back on 30-40 years from now as a historic moment. We had the cold war space race that begin with the Mercury Program, then Gemini then Apollo which got us to the moon. Then there was the space shuttle program and the International Space Station. And this is a new era in its own right: a privately financed commercial space age that frankly could not have been possible if it weren't for visionary entrepreneurs who had a lot of money that they were willing to invest into this.
---
Christian Davenport will be speaking at the Museum of Flight on Wednesday, April 25th at 7:30pm as part of Town Hall's Science series. He is the author of The Space Barons: Elon Musk, Jeff Bezos, and the Quest to Colonize the Cosmos out now from Public Affairs books.