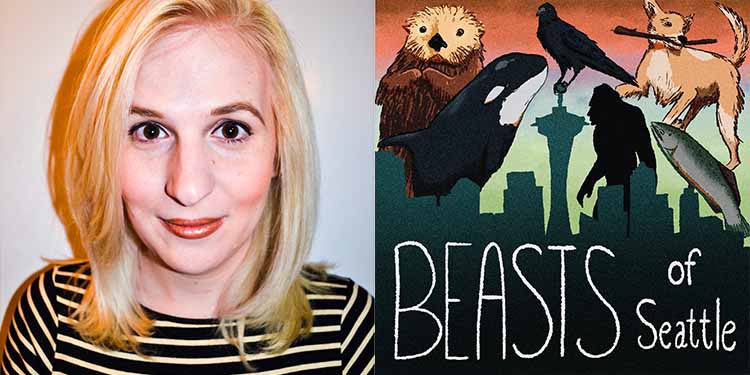 Town Hall Seattle is pleased to introduce our Fall 2021 Podcast Artist-in-Residence, Samantha Allen. Samantha is the author of Patricia Wants to Cuddle and the Lambda Literary Award finalist Real Queer America: LGBT Stories from Red States. She's also a GLAAD Award-winning journalist, and her writing has been published by The New York Times, Rolling Stone, CNN, and more.
As Town Hall's Artist-in Residence, Samantha examines the intertwined human-animal history of Western Washington through the lens of six wondrous, wild things. The result of her extensive research and interviews culminates in a fascinating 6-part podcast series, Beasts of Seattle. We took a moment to talk with Samantha to learn a little more about the series, Seattle's unique ecosystems, and how she really feels about Bigfoot.
Town Hall: How did you start to conceptualize Beasts of Seattle? What did that process look like?
Samantha Allen: I think the seed for the series was probably planted when I saw the salmon run at Pipers Creek in Carkeek Park the very first autumn I lived here. What an incredible thing to be able to watch amid an urban environment! We're a city that values green space, that loves nature, that takes pride in our wildlife — and yet the longer I've lived here, the more I've realized how precarious our beloved creatures are. Hence the series!
TH: The series covers six pretty iconic animals, but are there any creatures you wish could've been included? Which ones didn't make the cut?
SA: Oh, gosh! I was tempted to choose either squirrels or raccoons — arguably our two most famous "nuisance animals," as they're sometimes called. I also thought about picking cougars because of how plentiful they are in Washington and because of how often they're seen in residential areas. Earlier this year, people thought they saw a cougar in Discovery Park but state officials said it was probably something else. It would have been nice to have a land mammal on the list — well, besides Bigfoot, of course.
TH: How did you decide who to interview for each animal that's discussed in the series? 
SA: While I'm sure I could have gleaned a lot from strictly interviewing conservationists, I wanted to talk to an array of folks who could each offer a unique lens on the creature in question. That's why I'm interviewing the artist behind a steel salmon installation in Olympia, for example, and a working dog photographer. I put on my journalistic research cap and tried to assemble the most interesting and eclectic group of interviewees I could find for each episode.
TH: What do you think it is that makes Seattle's creatures so iconic and fascinating to both locals and folks from outside the region? 
SA: Anyone who visits this city, even for a day, is blown away by its beauty — especially once they realize it's not constantly downpouring here like it is in the movies. You've got the Olympics on one side, the Cascades on the other, and water all around. We're the biggest city in the country that's built on an isthmus. I think we're so powerfully situated in nature, and surrounded by trees, that we've been able to build up this reputation as a wild, wonderful place. But unless we take care of our environment, we'll be just another city — and I'd like for us to stay unique.
TH: What's one of the most surprising things you've encountered while working on the series so far? 
SA: I knew that orca whales were threatened by a lack of salmon and by water pollution, but I didn't know quite how badly noise pollution impacted them until I talked with Orca: Shared Waters, Shared Home author Lynda V. Mapes. Killer whales hunt with echolocation so if there are noisy propellers nearby, they can't hunt. They're apex predators, kings and queens of the ocean, but a loud boat can essentially ruin their ability to catch prey.
TH: What does exploring these creatures teach us about where we live and how to interact with the world around us?
A: At a minimum, it's a valuable exercise to see the world through the eyes of the eponymous beasts. At best, though, it can encourage us to be more responsible stewards of the environment and to remember that we live in an interconnected network of animal life. There's a selfish motivation here, too: The kind of world in which salmon thrive and the orca swim free is a better world for us, as well. We need to care for our creatures if we want a habitable planet.
TH: Which animal from the series would you like to study and learn about more?
SA: Of the animals in the series, I probably knew the most about sea otters and salmon in advance. But I'd like to learn more about crows. That's why I'm glad Dr. John Marzluff is joining me for the live crow finale! I hadn't really spared a thought for any corvid before I started researching for that episode. I see them everywhere and I wondered once why they were cawing so much in Leschi Park, but apart from that, I didn't pay them much mind. Come to find out, they're wildly smart and endlessly fascinating.
TH: If you had to get one of the animals from the series tattooed on your body, which one would you choose?
SA: Bold of you to assume I don't already have a sea otter tattoo! But you're right, I don't have any animal ink yet. If I had to choose, it'd have to be the sea otter. Just look at their little faces! I wish I were goth enough to rock a crow tattoo, but I'm a big softie at heart.
TH: Who would you love to listen to this podcast?
SA: Anyone who wants to think about our region from a fresh perspective. I think in an election year, we're going to be talking a lot about some very important and timely issues affecting Seattle, and I'm glad those conversations are happening. I think my hope is that amid that essential dialogue, Beasts of Seattle can remind us of the long view of our history and our future in this place. We're nothing without our nature.
TH: Bigfoot believer: yes or no?
SA: To quote Fox Mulder, I want to believe.
---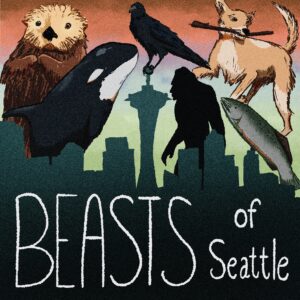 The Beasts of Seattle series kicks off with a fascinating dive into the world of the iconic salmon. Listen in here!
Learn more about the Residency Program at Town Hall Seattle and explore work by past Artists-in-Residence here.