Every week the Town Crier blog will look back at Seattle's near-forgotten Town Crier magazine to see what was happening then and talk about what's happening now. One of the largest sections of the original Town Crier was "What People Are Doing," highlighting things like, "Youngsters, taking advantage of the cold snap, have hunted up the old ice skates of various vintages and are indulging themselves in the rare sport of skating," and, "A party of ten married couples dined 'Dutch' last Wednesday evening." In this series we're revisiting the old column and tying it to our community's current happenings, asking: "what are people doing?"
Today's entry…
There was happiness and rejoicing in the December 13 edition of the Town Crier in regards to a Saturday concert. "There is going to be a wonderful treat given to the children of Seattle," the Town Crier proclaimed. The Seattle Symphony, with the help of one Louise Van Ogle, would be doing a children's concert. "The concert, which will be given in Meany Hall, will open with the 'March of the Toys' after Mrs. Van Ogle tells a story about the toys that will take part in the parade." It continues, "Of course there will be a good many of them because they come from the workshop of the Wizard of Oz and everybody knows what a wonderful toymaker he was." The concert concluded with some fancy Claude Debussy numbers.
Readers, you'll be happy to know that there will be a wonderful treat given to the children of Seattle on January 18. Town Hall will be doing a children's concert. As part of Town Hall's Saturday Family Concert series, Senegalese percussionist Thione Diop will perform in Town Hall's Forum. Diope's powerfully expressive Djembe drumming evokes the heart of the instrument as a traditional cultural icon from West African used to call the people together. It'll be a concert filled with music, dance, and culture. Tickets are free for youth and only $5 for adults. They're on sale now!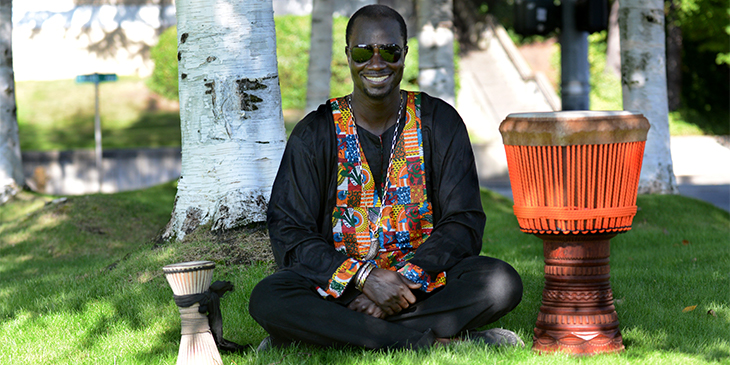 Join us for a wonderful concert the whole family can enjoy.