Every week the Town Crier blog will look back at Seattle's near forgotten Town Crier magazine to see what was happening then and talk about what's happening now. One of the largest sections of the original Town Crier was "What People Are Doing," highlighting things like, "The Art Institute wore festive attire on Wednesday, with nearly 3,000 narcissus and daffodil blossoms," and, "Next Monday, Mrs. J.H. Hill will entertain a number of her friends at bridge at The Camlin." In this series we're revisiting the old column and tying it to our community's current happenings, asking: "what are people doing?"
Today's entry…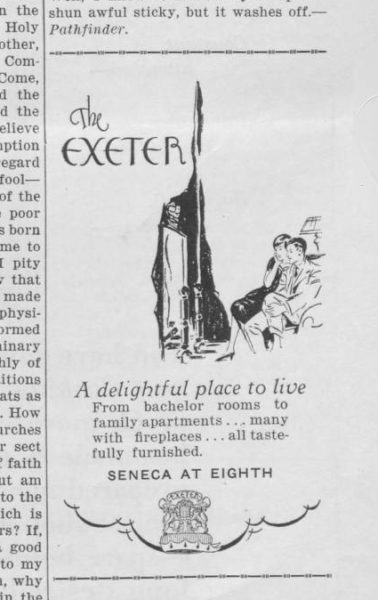 There's an ad in the April 13, 1929 edition of the Town Crier. It's for the Exeter. The building is "a delightful place to live." From bachelor rooms to family apartments, they're "all tastefully furnished." The Exeter is across the street from Town Hall. More? Our administrative offices are in that selfsame building!
It's a Seattle historical site, the Exeter. It was one of several high rise apartment buildings constructed on First Hill in the 1920s. It was originally constructed as an apartment hotel, with 139 two- to three-bedroom apartments, so they could be combined into larger units, and 19 large apartments with fireplaces. There was a dining room on the first floor for those who did not want to cook in their apartments. With its Tudor Gothic terracotta ornamentation, it was one of the sterling buildings in the neighborhood. It was designed by B. Dudley Stuart and Arthur Wheatley.
In the 1880s-90s, First Hill, where Town Hall and the Exeter stands, was one of the most desirable residential neighborhoods in the city. With stunning views and with its close proximity to downtown, some of Seattle's finest mansions began appearing. Apartment building living came soon after to the neighborhood.
Interested in living at the Exeter yourself? You can! All the better that your neighbors are your friends, us here at Town Hall.