If your question or needs aren't addressed below, please reach out to us at access@townhallseattle.org. To read our full accessibility statement, click here.
Navigating The Building
In general, we recommend that visitors use the 8th Avenue Entrance for events in the Great Hall and Reading Room, and the West Entrance for events in the Forum. However, please use whichever entrance is best suited for you.
8th Avenue Entrance:
A 3-minute drop-off and loading zone exists across the street from our 8th Avenue Entrance. The doors are accessible via a ramp and lead, at-grade, into our lobby level. From there, patrons can access an at-grade elevator serving all three levels of the building, as well as an all-gender, ADA restroom.
West Entrance:
A loading zone exists on Seneca street, directly outside the West Entrance. The alley-path to the West Entrance door is at-grade, but please note that the 3-minute passenger load zone on Seneca is at a steep incline. The doors lead directly into the Forum level of the building, with at-grade access to the elevator serving all three levels of the building, as well as an all-gender, ADA restroom.
Please note, the block our building sits upon is currently under construction, but when the neighboring apartment towers and plaza are complete, the West Entrance will be our new front doors. Cars will have access to an alley where patrons can be safely dropped off and picked up directly in front of this new maximally-accessible entrance.
ADA Seating
All spaces within our building have seats reserved for those with ADA needs. The Forum and other event spaces have variable seating, but the Great Hall has fixed accessible seating, shown on the map below.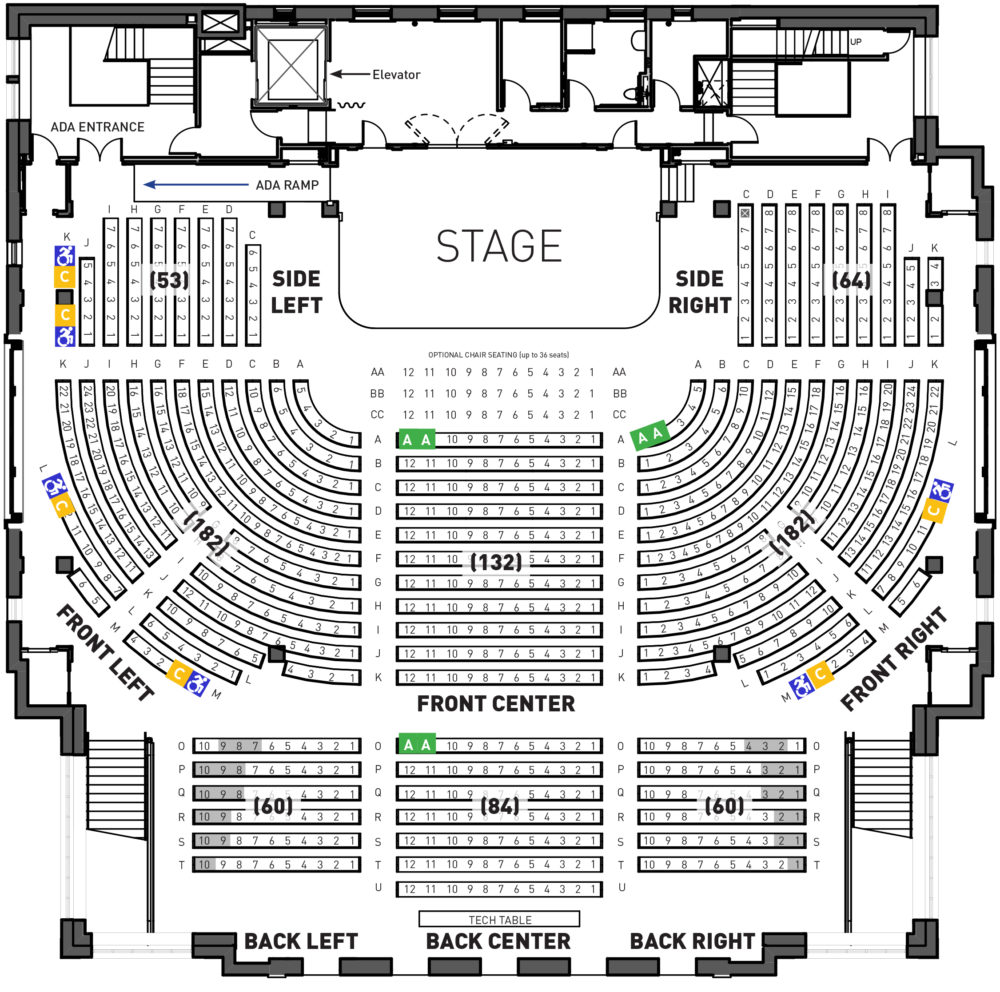 (click image to enlarge)
ADA seating is available on a first-come, first-served basis. If you have a specific accommodation request, please contact access@townhallseattle.org.
Restrooms
Town Hall has restrooms for all genders and bodies. Our building features 17 all-gender restrooms on our lobby level, as well as ADA-accessible restrooms on the lobby and Forum level.
Hearing Loop
Our Hearing Loop system has been installed in all three of our performance spaces. These enable audience members with T-coil hearing aids to experience our events at full volume by having sounds from the stage's microphones transmitted directly to their hearing aids! Headset are available and free-to-use, please ask a staff member before the event.
ASL & CART
Town Hall-produced programs offer ASL and CART services by request. To request one of these services, contact us at access@townhallseattle.org.
Service Animals
Town Hall welcomes certified service animals on all levels of our building. No other animals are permitted. 
Transcripts
Captions are available for all video content in our YouTube media library, and transcripts of other Town Hall-produced events and podcasts are available by request (access@townhallseattle.org). We're also developing a Transcript Editor program to transcribe more of our content beginning in 2019-20.
Access for Speakers & Staff
Town Hall is also ADA accessible for speakers and staff. All backstage and back-of-house areas are accessible for all bodies. For more information or specific inquiries, please contact access@townhallseattle.org.
Economic Accommodations
Town Hall believes that everyone deserves access to fresh ideas, and all Town Hall-produced programs are free for everyone age 22 and under. If cost poses a barrier to your attendance at one of our events, please contact us at communications@townhallseattle.org. 
Please note that Town Hall does not dictate ticket prices for organizations renting our stages. Our ticketing structure and free youth tickets do not extend to programs produced by rental partners.