The Forum is now open! We're excited about all the possibilities of the space. One item in the new space is a functional piece of art—the lectern. Comprised primarily of 14-gauge cold-rolled steel and finished with acid patina and wax, the lectern's height is electrically variable from 42" to 48" via linear actuator. Its body rolls on 'ball races,' typically used for heavy material handling, but reconfigured and manufactured as furniture casters, complete with brakes!
Karl Swanson, who built the lectern, chatted briefly with Town Hall's marketing manager, Jonathan Shipley, about his art.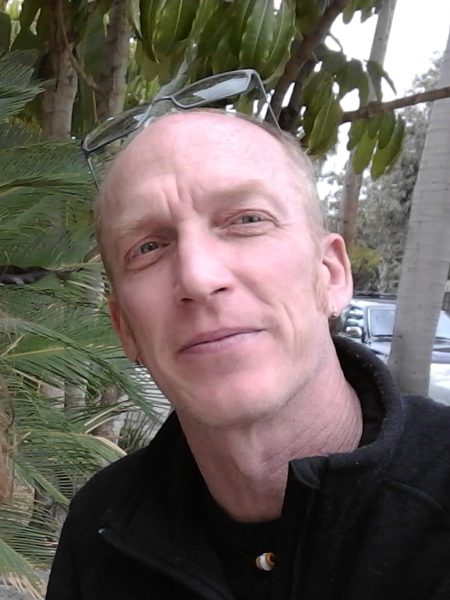 JS: What is your full time job?
KS: I don't work full-time anywhere…I am self-underemployed, focusing on my personal art.
JS: How did you get into metalwork?
KS: I was self-introduced to metal fabrication in my grandfather's shop in Grand Island, Nebraska. He did his own maintenance on his many rental properties. He had all types of tools and materials, and me and my siblings were free to explore. I once made a chicken out of wire, nuts, and bolts! My earliest love was automobiles, and to be creative with them you needed metalworking skills, so that steered me in the general direction. Also, after dropping out of art school, my step-mother recommended that I attend vocational school and learn to weld, both for work and sculpture. Although I ultimately did not do the schooling, the suggestion nudged me toward the craft.
JS: What are some other metal projects that you've done?
KS: I was a metal fabricator professionally for 25 years, all told. Everything from blacksmithing to aerospace metal fabrication. I did my own sculptural furniture in Salt Lake City, San Francisco, and Santa Barbara. The list of projects is long. Recently, I built folding bunk beds for a tiny house construction company that was being filmed for a reality TV show.
JS: Why did you want to work with Town Hall?
KS: My family has a long tradition of being supportive of—and being culturally nurtured by—Town Hall. The building's renovation project was impressive and ambitious and I wanted to take part somehow. Also, Wier Harman had been instrumental in helping our family find the perfect care facility for our matriarch and I wanted to return the favor.
JS: About the lectern—what aspect of it are you most proud of?
KS: I am most proud of creating a tool that satisfies both myself as a designer/fabricator and Town Hall as an end user.
JS: What was the most challenging aspect of the lectern?
KS: The most challenging part was the time frame: fully six months from first discussions to finished product. There were some relatively minor technical challenges that I lost a bit of sleep over, but those are to be expected with custom fabrication when there are moving components.
JS: What's your next metal project?
KS: I plan to do some personal small-scale sculpture with copper, brass and cloth. I will also continue to do itinerant metalwork for a shop in Santa Barbara. I might possibly help with the exterior electric bicycle corral at Town Hall, too!