Town Hall is pleased to announce our new Venue Access Program (VAP) partner, Orquesta Northwest! Part of 4Culture's Building for Equity program, our VAP was launched last season to build a long-term partnership with a small-scale, BIPOC-led nonprofit and offer free access to Town Hall's stages throughout the season. We couldn't be more excited for Orquesta Northwest to join us in the program's inaugural year to fill our spaces with vibrant music and community. 
 
Under the guidance of acclaimed conductor Paula Nava Madrigal, Orquesta Northwest serves as the umbrella organization for three incredible initiatives in the Puget Sound area: The Ballard Civic Orchestra, a prominent hub for Latinx musicians performing under Maestra Paula's leadership; Cascade Conducting, an annual week-long conducting masterclass; and World Youth Orchestra, which provides free instruction and instruments to underrepresented students, with a focus on empowering Latinx youth.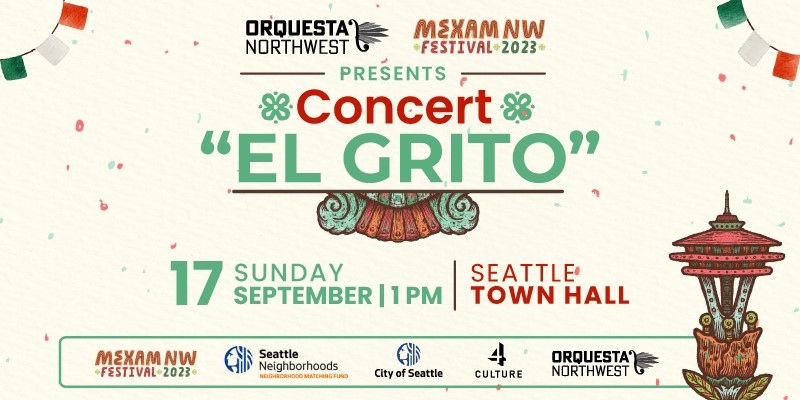 Orquesta Northwest kicks things off with an El Grito celebration (9/17) in collaboration with the Consulate of Mexico. In honor of Mexican Independence Day, join us for performances by CeAtl Tonalli Aztec Dancers, Ballard Civic Orchestra, Trío Guadalevín, Mariachi Guadalajara, Bailadores de Bronce, and more! Admission is free, and the festivities begin at 1PM. 
P.S. Orquesta is looking for musicians! Visit their website to learn more and get involved.