Orquesta Northwest, The Consulate of Mexico in Seattle, and Town Hall Seattle present
El Grito
Celebrating Mexico's Independence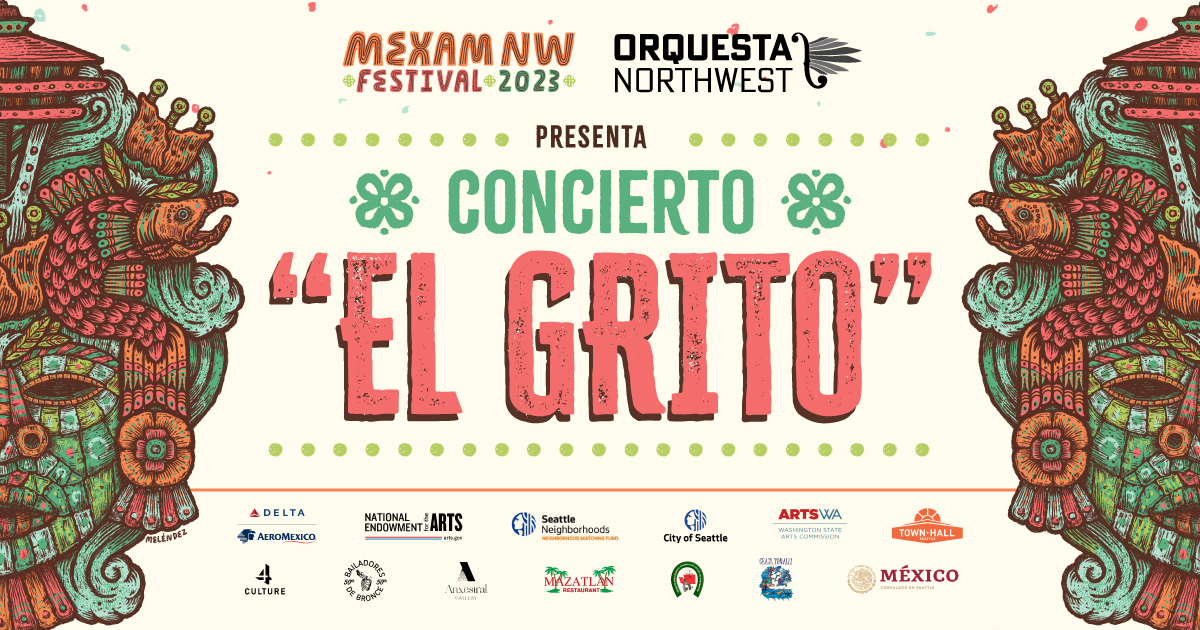 Orquesta Northwest, The Consulate of Mexico in Seattle, and Town Hall Seattle are excited to share with you the "El Grito" Ceremony. This highly significant Mexican celebration is held annually and carries immense cultural and historical importance.
"El Grito" is a spirited commemoration of Mexico's independence and serves as a symbol of Mexican heritage and unity. It takes its name from the famous "Grito de Dolores" (Cry of Dolores), a call to arms that marked the beginning of Mexico's struggle for independence from Spain in 1810.
As we celebrate 200 years of diplomatic relations between the United States and Mexico, the "El Grito" Ceremony signifies the strong bond between our two nations and highlights the rich cultural exchange that has taken place throughout our shared history.
Part of the 2023 MEXAM NW festival, this event showcases the vibrant traditions, music, dances, and flavors of Mexico, offering attendees a unique opportunity to immerse themselves in our diverse culture. It serves as a platform to honor our past, celebrate our present, and embrace our future together.
Orquesta Northwest invites you to join them in creating an unforgettable experience that will contribute to the cultural fabric of Seattle and further promote the importance of the U.S.-Mexico friendship.
Run of Show
12:30PM Pre-Show – Floreador (trick-roping performer) and Aztec Dancers CeAtl Tonalli in the Plaza
2PM Official "El Grito" Ceremony and Performance by the Ballard Civic Orchestra inThe Great Hall, Maria Reyna and Joaquin Garzon.
3PM Post-Show in The Forum with Mariachi music featuring Mariachi Guadalajara
Orquesta Northwest strives to enhance community life by providing diverse and inclusive classical music programs, events, and performances, featuring Latino arts and culture, in order to build intercultural understanding, foster connection, and engagement, and strengthen the leadership and voice of underrepresented communities in the Pacific Northwest.
A livestream of the Ballard Civic Orchestra performance will be available here at 2PM on the day of the event.
—
Concierto El Grito
La Orquesta Northwest, el Consulado de México en Seattle y Town Hall Seattle se complacen en compartir con ustedes la Ceremonia de "El Grito". Una celebración mexicana de gran importancia que se lleva a cabo anualmente y posee un inmenso valor cultural e histórico.
"El Grito" es una emotiva conmemoración de la independencia de México y sirve como símbolo de la herencia mexicana y la unidad. Toma su nombre del famoso "Grito de Dolores", un llamado a las armas que marcó el inicio de la lucha de México por su independencia de España en 1810.
Mientras celebramos 200 años de relaciones diplomáticas entre Estados Unidos y México, la Ceremonia de "El Grito" simboliza el fuerte vínculo entre nuestras dos naciones y resalta el vasto intercambio cultural que ha tenido lugar a lo largo de nuestra historia compartida.
Este evento muestra las vibrantes tradiciones, música, danzas y sabores de México, ofreciendo a los asistentes una oportunidad única para sumergirse en nuestra cultura llena de diversidad. Sirve como plataforma para honrar nuestro pasado, celebrar nuestro presente y abrazar juntos nuestro futuro.
La Orquesta Northwest invita a unirnos a esta celebración para crear una experiencia inolvidable que contribuirá al tejido cultural de Seattle y promoverá aún más la importancia de la amistad entre Estados Unidos y México.
Programa del Evento
1PM-Pre-Show: Floreador (artista de lazo) y Danzantes Aztecas "CeAtl Tonalli" en la Plaza
2PM Ceremonia Oficial de "El Grito" y actuación de la Ballard Civic Orchestra en el Great Hall, a cargo de Maria Reyna y Joaquín Garzón.
3PM Post-Show en The Forum con música de Mariachi a cargo de Mariachi Guadalajara, Trio Guadalevin y los Bailadores de Bronce.
---
Presented by The Consulate of Mexico in Seattle, Orquesta Northwest, and Town Hall Seattle.
This program is part of Town Hall's VAP (Venue Access Program). Learn more about the program here.
For questions on registering for this event, please contact info@orquestanw.org.