Event Format:
In-Person & Livestream
"Awesome": Public Hearing
Art-Rock Absurdity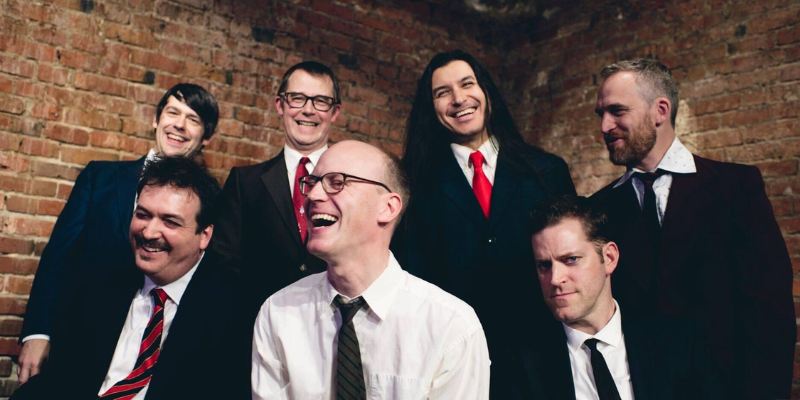 Two concert times available: 4:00 PM and 7:30 PM
($15 – $20)
($15 – $20)
Sunday, December 10, 2023, 4:00PM
The Wyncote NW Forum
1119 8th Ave (Entrance off Seneca St.)
Seattle, Washington 98101
A livestream will also be available for this event.
Get ready to party it up with local musical luminaries "Awesome"!
Long-time Seattle music and mischief makers "Awesome" bring their harmony-fueled art-pop theatrics to Town Hall Seattle for two all-ages shows. Expect tuneful songs, absurd videos, and nonsensical discussions about our failing democracy, plus the occasional prog-rock head-bobber. Also, they will take one question from the audience.
"Awesome" sprang up from the Seattle underground theater and comedy scene in 2004. The seven-member ensemble has created full-length theatrical music performances for On The Boards, ACT Theater, and the Portland TBA Festival; toured productions to Montana, Oregon and Calgary; and played countless shows across the Pacific Northwest in storied venues and uncommon spaces: the Crocodile, Neumos, Showbox, the Gorge Amphitheater, the uppermost balcony at the Moore, and the backstage dressing rooms of Town Hall's Great Hall (Dempster Diving, Earshot Jazz Fest, 2006). They were also commissioned to create original music for the Stranger-produced literary events with Miranda July, Jonathan Safran Foer, Dan Savage, and Neal Pollack. They have released 5 albums and 2 EPs, plus a bunch of new stuff that they are too busy to record.
Band Members
John Ackermann – mandolin
Kirk Anderson – drums and vocals
Basil Harris – bass
Evan Mosher – trumpet and vocals
David Nixon – banjo and vocals
John Osebold – guitar and vocals
Rob Witmer – accordion
---
Presented by Town Hall Seattle.