Amanda Montei and Kristi Coulter with Gemma Hartley
Ambition, Women, and Work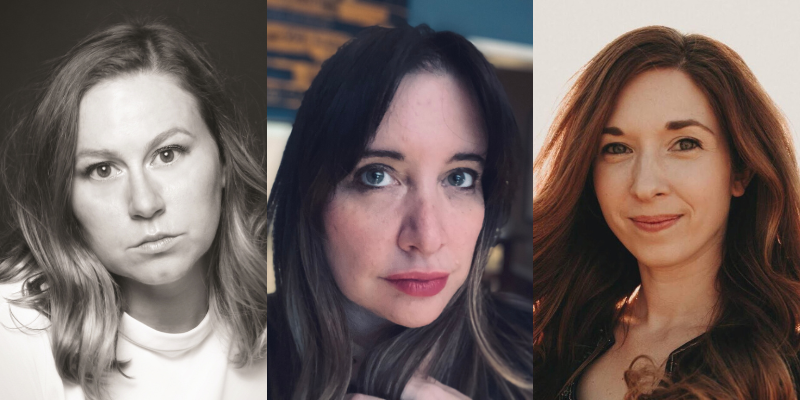 ($5 – $25 Sliding Scale)
Monday, October 9, 2023, 7:30PM
The Wyncote NW Forum
1119 8th Ave (Entrance off Seneca St.)
Seattle, Washington 98101
This is an in-person event, no livestream will be available.
When Amanda Montei became a parent, she struggled with the physicality of caring for children, but even more with the growing lack of autonomy she felt in her personal and professional life.
The conditions of modern American parenthood — the lack of paid leave and affordable childcare, the isolation and alienation, the distribution of labor in her home, and the implicit demands of marriage — were not what she had expected.
She began to see a connection between how women were feeling in motherhood and the larger culture of assault in which she had grown up. In American society, women are expected to prioritize their children, often by pushing their bodies to the limit and ignoring their own desires and needs. As she struggled to adjust to the new demands on her body, this stirred memories of being used, violated, and seen by men.­­ She had the desperate urge to finally say no, though she didn't know how, or to whom she might say it.
In her book, Touched Out, Montei draws connections between caregiving, consent, reproductive control, and the sacrifices women are expected to make throughout their lives. Exploring the stories we tell about psychology, childbirth, sexuality, the family, and the tender bonds that form between parent and child, Montei delivers a critique of the institution of motherhood and considers what it really means to care in America.
Amanda Montei is the author, most recently, of the book Touched Out: Motherhood, Misogyny, Consent, and Control, which has been featured at The New York Times, The Guardian, Elle, The Cut, LA Review of Books, Guernica, The Boston Globe, and many other outlets. She has a PhD in English literature from SUNY at Buffalo and an MFA in Writing from California Institute of the Arts, and she runs the Substack Mad Woman, which explores, among other subjects, gender, work, sexuality, politics, and craft. She teaches writing at CSU East Bay, many national creative writing organizations, and beginning this winter, at Stanford. She lives in California.
Kristi Coulter is the author of Exit Interview: The Life and Death of My Ambitious Career and Nothing Good Can Come From This, a finalist for the Washington State Book Award. Her work has also appeared in The Paris Review, New York Magazine, Elle, Glamour, The Believer, and many other publications. She teaches writing at Hugo House and lives in Seattle and Los Angeles.
Gemma Hartley is a freelance journalist, speaker and author of Fed Up: Emotional Labor, Women and the Way Forward. She has spoken on the topic of invisible labor around the world, from corporate conferences to festivals at the Sydney Opera House. Her writing has been featured in outlets including Harper's Bazaar, Women's Health, Glamour, The Washington Post, CNBC, Redbook, Cosmopolitan, Good Housekeeping, Teen Vogue, and The Huffington Post. She is passionate about creating a more equitable world in which invisible labor is valued and supported by both personal partners and public policy alike.
---
Presented by Town Hall Seattle.