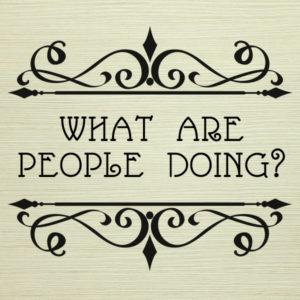 Every week the Town Crier blog will look back at Seattle's near forgotten Town Crier magazine to see what was happening then and talk about what's happening now. One of the largest sections of the original Town Crier was "What People Are Doing," highlighting things like, "Mr. and Mrs. E.F. Blaine entertained a party of fourteen at the Sunset Club…flags were the effective decoration," and, "Now is the accepted time to take all your silverware that is not necessary to your happiness and have it exchanged into War Savings Stamps."  In this new series we're revisiting the old column and tying it to our community's current happenings, asking: "what are people doing?"
Today's entry…
The holidays are fast approaching. "A special three days' Thanksgiving sale will be featured at the Red Cross Jumble Shop," the November 16th Town Crier wrote. "Everything that goes to the making of a toothsome holiday dinner is wanted to make this sale a success. Two fine turkey gobblers have already been promised, and the committee hopes others will flock in." They wanted all sorts of delicacies, including fruits, vegetables, pies, cakes, cookies, doughnuts, jellies, cranberry sauces and more.
The holidays are fast approaching again, 100 years later. One of Seattle's most beloved events is the Sheraton Seattle Hotel's Annual Gingerbread Village. Celebrating its 26th year, Seattle's top architecture firms, master builders, and Sheraton Seattle culinary teams will create immense, elaborate, creative, awe-inspiring, and sweet gingerbread houses.
The event benefits the Juvenile Diabetes Research Foundation. This year's theme takes their inspiration from Dr. Seuss's How the Grinch Stole Christmas.