Under Renovation
Our century-old historic home has been restored and upgraded!
A Revitalized Town Hall
In June 2019, Town Hall completed an 18 month renovation on our century-old landmark home.
The structure received a top-to-bottom renovation, with nuts-and-bolts necessities like seismic stabilization and climate control as well as vital patron-focused improvements like upgraded acoustic capabilities and 17 new all-gender restrooms. Now our transformed Town Hall is ready to remain Seattle's home for big ideas for another century.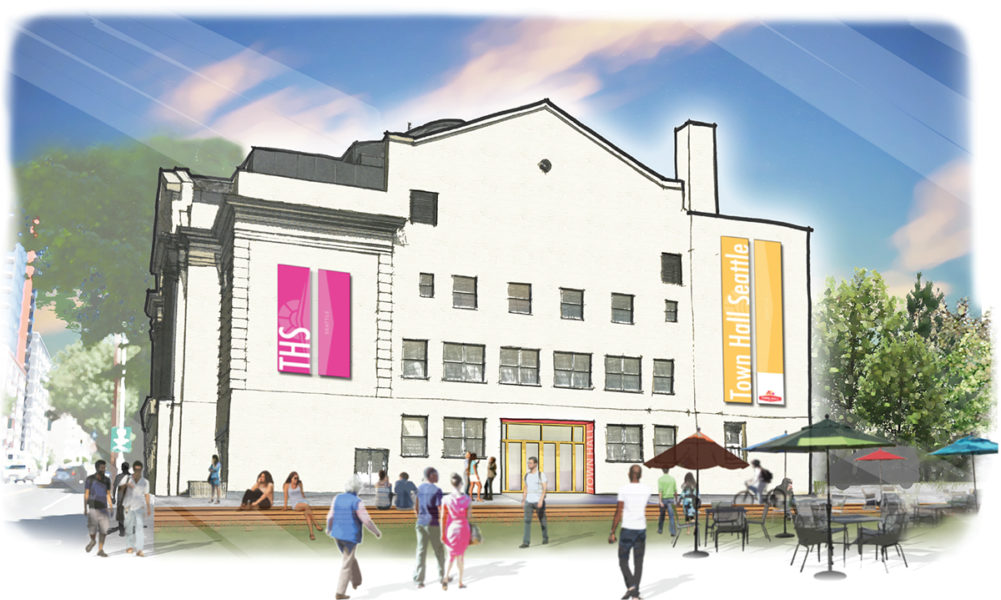 Renovation Photos
Check out these photos for a step-by-step look back at the renovation's progress!
(Find more photos on Flickr.)
Renovation Details
HISTORY
Our historic building opened its doors in 1916 as the Fourth Church of Christ, Scientist. When Town Hall purchased the building in 1998 we made a commitment to preserve the structure. Town Hall adopted Landmark status to keep the upgrades from altering the building's aesthetic. 
STRUCTURE
Formerly unreinforced masonry, our building's structure urgently needed seismic retrofitting for protection against earthquakes. The renovation added a seismic stabilization system throughout Town Hall, as well as other structural improvements like a new roof and shear walls with integrated steel for added stability.
ACCESSIBILITY
Town Hall is committed to maximizing access for our patrons and speakers alike. Our renovation included major ADA advances throughout the building, such as a new passenger elevator serving all three floors and a graded ramp on 8th avenue. In addition, we've installed our hearing loop system in every performance space in the building!
GUEST COMFORT
One of our most crucial upgrades was the installation of 18 new all-gender restrooms, including 2 ADA accessible stalls. We've also enabled occupancy through the hot summer months by adding a climate control system, unlocking year-round Town Hall programming.  
DIGITAL MEDIA
The addition of a broadcast center and media room has greatly broadened our platform for accessible digital streams and archives. This extra digital infrastructure has greatly increased our capacity for livestreams, podcasts, and exclusive interviews with our speakers and performers.
THE GREAT HALL
Longtime friends of Town Hall are familiar with the Great Hall's signature warmth and unique intimacy. With the renovation, we sought to preserve the Great Hall's characteristic look and feel while overhauling the space with restored oak pews and stained glass windows, plus expanded lighting and audio capabilities. We've also outfitted the space with a custom-designed acoustic reflector for amplified and acoustic performances. The reflector's design mimics the curvature of a lute, and is perfectly shaped to deliver fully rounded sound to every seat in the house.
THE FORUM
Downstairs has become the Forum, the most flexible high-capacity performance space of its kind in Seattle. The Forum is a fully transformable venue which features a modular stage and seating that can be rearranged to suit any performance. In addition, the space also features a new expanded library as well as a new Forum bar—the Otto! 
THE READING ROOM
Our old staff offices on the main floor have been converted into The Reading Room—a new performance space with a comfortable capacity of 75. With the space's intimate design and unique wooden artwork—much of which is built of reclaimed organ wood from the Great Hall—the Reading Room's cozy atmosphere is ideal for small lectures, gatherings, and receptions, blurring the line between speaker and audience.
A HOME FOR OUR FUTURE
A home for new ideas, a platform for the voices of our community, a space to share connections with the people who inspire us—most importantly, Town Hall is yours. Our renovation has kept it that way, ensuring that Town Hall stands for another century as a modern and sustainable home for curious, creative, and engaged Seattleites.
A STELLAR TEAM
The project was managed by Point 32 Services; designed by architects Weinstein A|U (design architect) and Building work (Architect of Record); acoustic engineering by Jaffe Holden; and built by RAFN Construction.
General Contractor RAFN is a leader among sustainable builders in the Puget Sound region. They have worked on projects such as the Seattle University's Connolly Center and Campion Ballroom, the Bethany Presbyterian Church, and the Boeing Imax Theater.
Project Managers Point32 have overseen work for the Seattle Aquarium, The Bullitt Center, Woodland Park Zoo, the Olympic Sculpture Park, the Uptown Theater (now home of SIFF), and the Nobel Center in Stockholm.
Weinstein A+U is an Architecture and Urban Design firm who have worked on projects such as the Woodland Park Zoo West Entry, Kenmore Library, Temple de Hirsch Sinai Eastside Synagogue, and Hugo House.
BuildingWork (Architect of Record) focuses on the design of civic and community spaces, creative workplaces, adaptive re-use projects, and historic preservation.
Jaffe Holden is an acclaimed acoustic design consultancy, with project experience including the Lincoln Center for the Performing Arts, The Hollywood Bowl, The Sterling Memorial Library Renovation at Yale, and the Kennedy Center at the Eisenhower Theater in Washington, DC.