Salmon, Cedar, Rock & Rain
Exploring Olympic National Park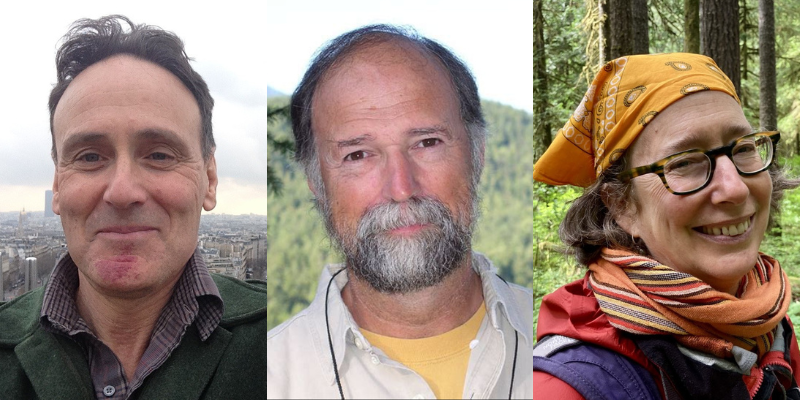 ($5 – $25 Sliding Scale)
Monday, October 23, 2023, 7:30PM
The Wyncote NW Forum
1119 8th Ave (Entrance off Seneca St.)
Seattle, Washington 98101
This is an in-person event.
In the Pacific Northwest, many of us delight in Olympic National Park, a UNESCO natural World Heritage Site, located right in Seattle's backyard. Yet the famed park is just the center of a much larger ecosystem including rivers that encompass old-growth forests, coastal expanses, and alpine peaks, all rich with biodiversity. For tens of thousands of years, humans have thrived and strived alongside this area.
To tell the story of this place, award-winning poet and nature writer Tim McNulty and contributors such as Fawn Sharpe, president of the National Congress of American Indians, David Guterson, author of bestselling novel Snow Falling on Cedars, Wendy Sampson, and Seattle Times environmental reporter Lynda V. Mapes, collaborated with Braided River in a project called Salmon, Cedar, Rock & Rain.
Braided River, the same organization that created the award-winning book and multimedia exhibit We are Puget Sound, is bringing awareness to the Olympic Peninsula through art and stories––stories of development, conservation, restoration, and cultural heritage, while writers from the Lower Elwha Klallam, Jamestown S'Klallam, Port Gamble S'Klallam, Makah Tribe, and Quinault Indian Nation share some of their own history and perspectives. The project, in partnership with The Mountaineers, Olympic Parks Associates, National Parks Conservation Foundation, and many more, is a diverse exploration of Olympic National Park and its surrounding peninsula.
Tim McNulty is a poet, essayist, and nature writer and recipient of the Washington State Book Award and National Outdoor Book Award.
David Guterson is a novelist, short story writer, poet, essayist, and journalist. He is best known for his award-winning debut novel, Snow Falling on Cedars, which won both the PEN/Faulkner Award and the American Booksellers Association Book of the Year Award. It has sold more than four million copies and was adapted as a major motion picture. He lives on Bainbridge Island near Seattle with his wife Robin and five children.
Wendy Sampson is a member of the Lower Elwha Klallam Tribe (LEKT); she lives on the reservation with her family. She has been a Klallam language teacher for twenty years. Wendy has provided cultural outreach in the schools, taught after-school programs and community adult classes, and worked under various grant projects with the goals of creating tribal history and language lessons and developing tools for language learning. She is now a teacher for the Port Angeles School District offering courses in the Klallam language as well as history classes from a tribal perspective.
Lynda V. Mapes is an award-winning journalist, author, and close observer of the natural world. She is the author of six books, including Orca: Shared Waters, Shared Home; Witness Tree: Seasons of Change in a Century Old Oak; and Elwha: A River Reborn. Lynda lives in Seattle where she covers nature, the environment, and tribes as a staff reporter for The Seattle Times.
---
Tandem Book Club Event
This is a Tandem Book Club event! Join us at 6:30pm in The Forum Library, one hour prior to the Salmon, Cedar, Rock & Rain event to discuss the evening's featured topic.
Topic: Humans and the Natural World
Tandem Book Club title:  Braiding Sweetgrass by Robin Wall Kimmerer
Link for registration coming soon.
---
Presented by Town Hall Seattle.