Event Format:
In-person and Livestream
Town Hall Seattle and The Bushwick Book Club Seattle present
An Evening of Music Inspired by Moby Dick by Herman Melville
A Whale of a Tale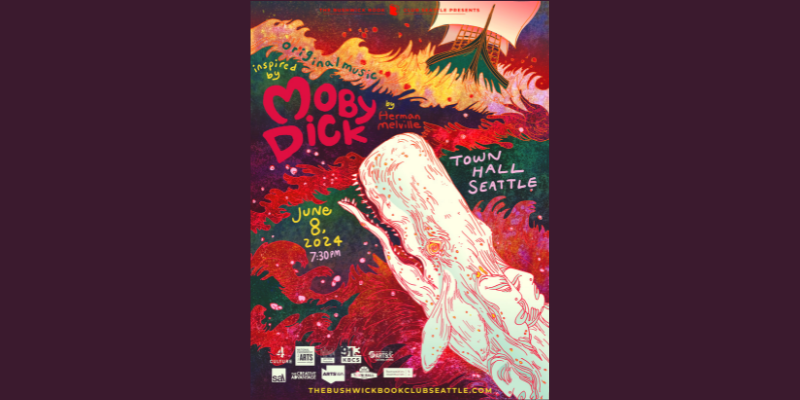 ($15.00 – $20.00)
Saturday, June 8, 2024, 7:30PM
The Wyncote NW Forum
1119 8th Ave (Entrance off Seneca St.)
Seattle, Washington 98101
A livestream of this event will also be available.
Town Hall is proud to partner with The Bushwick Book Club Seattle presenting concerts of original music inspired by literature. Each event showcases a lineup of local, professional musicians and artists each offering a fresh response to that evening's source text, plus extras like an audience quiz, short film, or scholarly introduction. Book choices range from whimsical to solemn, classic to contemporary, and most every place in between.
Moby Dick
By Herman Melville
Melville's legendary seafaring tome about a maniacal captain's obsessive quest for a mystical leviathan, famously name-checked in Bob Dylan's 2017 Nobel Prize acceptance speech, unveils the raw essence of human madness. There are classics, and then there is Moby-Dick.
"It is precisely Moby-Dick's forbidding reputation that has inspired artists, writers, performers and film-makers from Frank Stella to Jackson Pollock, Led Zeppelin to Laurie Anderson, Orson Welles, Sylvia Plath, Stanley Kubrick and Lynne Ramsay, as well as the makers of Tom and Jerry, and even The Simpsons…Once you do read it, it's hard to let it go." – The Guardian
Check it out at Seattle Public Library. Please consider buying your Bushwick choices with their local bookstore partner, Third Place Books.
Heads up: though this 172-year-old novel features men in love – with each other! – zero women are in sight. Oh, and the finale may (or may not) feature violence directed toward a (certain) whale.
---
Presented by Town Hall Seattle and The Bushwick Book Club Seattle.