Event Format:
In-person and Livestream
Town Hall Seattle and The Bushwick Book Club Seattle present
An Evening of Music Inspired by Aesop's Fables
Timeless and Enchanting Stories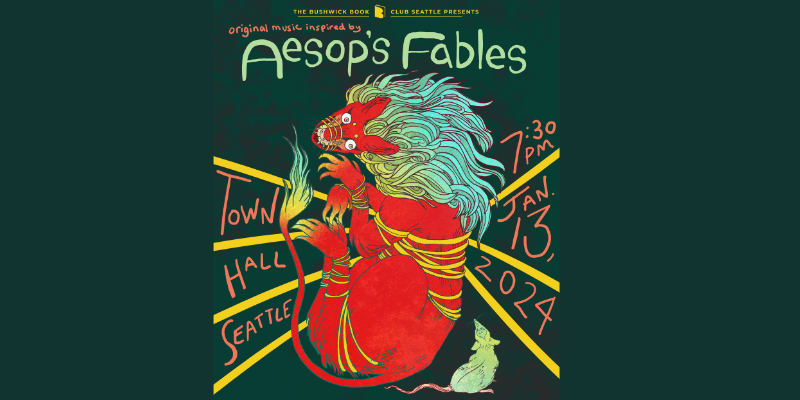 ($15.00 – $20.00)
Saturday, January 13, 2024, 7:30PM
The Wyncote NW Forum
1119 8th Ave (Entrance off Seneca St.)
Seattle, Washington 98101
A livestream of this event will also be available.
Town Hall is proud to partner with The Bushwick Book Club Seattle presenting concerts of original music inspired by literature. Each event showcases a lineup of local, professional musicians and artists each offering a fresh response to that evening's source text, plus extras like an audience quiz, short film, or scholarly introduction. Book choices range from whimsical to solemn, classic to contemporary, and most every place in between.
The collected fables of Aesop, a Greek slave and storyteller, have endured for over two millennia. From The Boy Who Cried Wolf to The Fox and the Grape and many more beyond, this sprawling collection continues to enchant readers with its timeless wisdom and humor.
"Ultimately the fables represent one of the oldest characteristics of human life: storytelling. […] The stories served as a code by which the weak and powerless could speak out against the strong and powerful." – World History Encyclopedia
Check it out at Seattle Public Library. Please consider buying your Bushwick choices with their local bookstore partner, Third Place Books.
Heads up: most of these stories are harmless, but those who explore more of the hundred-plus fables attributed to Aesop might find some death, racial insensitivity, and other trappings of cautionary tales from bygone eras.
---
Presented by Town Hall Seattle and The Bushwick Book Club Seattle.