We're Taking a Holiday Break! The Town Hall administrative offices will be closed from December 26 through January 2.
Location
Town Hall is centrally located at 1119 8th Ave (the corner of 8th and Seneca).
Our venue is served by frequent bus routes, is near access to light rail stations, and close to a number of parking options nearby – including discounted parking at LAZ Parking (6th Ave Hilton Garage). Please note we do not have our own parking lot. See parking suggestions below.
Entrances
In general, we recommend that visitors use the 8th Avenue Entrance for events in the Great Hall and Reading Room, and the West Entrance for events in the Wyncote NW Forum.
8th Avenue Entrance:
A 3-minute drop-off and loading zone is available across the street from our 8th Avenue Entrance. The doors are accessible via a ramp and lead, at-grade, into our Lobby level. From there, patrons can access an at-grade elevator serving all three levels of the building, as well as an all-gender, ADA restroom.
West Entrance:
The West Entrance loading zone is accessible via a one-way driveway/alley off of Seneca street. Passengers may be dropped off or picked up directly outside of Town Hall's West Entrance. The doors lead directly into the Forum level of the building, with at-grade access to the elevator serving all three levels of the building, as well as an all-gender, ADA restroom.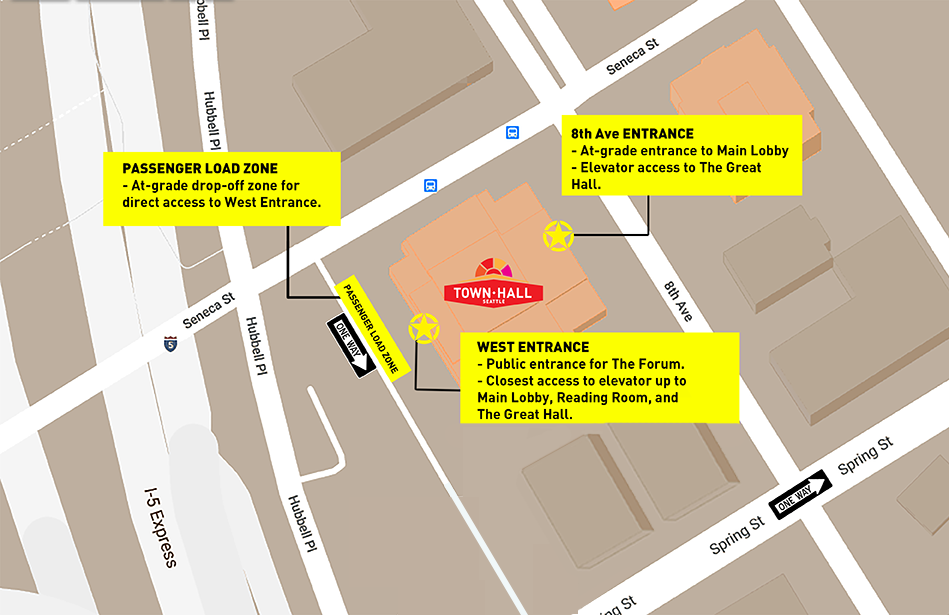 Public Transit
Town Hall is committed to environmental sustainability, and we encourage everyone to use public transit whenever possible.
Metro Route #2 (serving Downtown and Madrona Park) stops right next to our building.
The University Light Rail station is a four block walk or ride to 3rd Ave.
Metro Route #12 (serving Interlaken Park, First Hill, and Downtown) stop on Madison St. just three blocks south.
Parking
There is no on-site parking at our venue, but we are located near several parking garages. Click a location on the map for details on pricing, hours, and more.
Town Hall Seattle also partners with LAZ at the 6th Avenue/Hilton Hotel Garage to provide discounted parking for Town Hall Seattle patrons. This garage is a short walk from Town Hall (.2 miles) provides ADA-accessible parking and the convenience of prepayment online. Learn how to reserve your spot here.*
*Online reservations and discounted parking at the 6th Ave/Hilton Hotel Garage may be unavailable during high-traffic events.
Bike Parking
14 bike parking spots are available near the corner of 8th and Seneca.
If you plan to utilize a bike-share service, please park your bike off of Town Hall's property and in accordance with the City of Seattle bike parking regulations and within the bike-sharing service's guidelines.
Accessibility
ADA Seating
All spaces within our building have seats reserved for those with ADA needs. The Forum and other event spaces have variable seating, but the Great Hall has fixed accessible seating, shown on the map.
ADA seating is available on a first-come, first-served basis. If you have a specific accommodation request, please contact access@townhallseattle.org.
Restrooms
Town Hall has restrooms for all genders and bodies. Our building features 17 all-gender restrooms on our lobby level, as well as ADA-accessible restrooms on the lobby and Forum level.
Hearing Loop
Our Hearing Loop system has been installed in all three of our performance spaces. Hearing Loop enables audience members with T-coil hearing aids to experience our events at full volume by having sounds from the stage's microphones transmitted directly to their hearing aids. Headsets are available at the Box Office desks and are free to use; please check in with a staff member to borrow a headset before the event.
ASL & CART
Town Hall-produced programs offer ASL and CART services by request. To request one of these services, contact us at access@townhallseattle.org.
Captions
Captions are available for all video content in our YouTube media library.
Service Animals
Town Hall welcomes certified service animals on all levels of our building. No other animals are permitted.
Access for Speakers & Staff
Town Hall is ADA accessible for presenters, performers, and staff. All backstage and back-of-house areas are accessible for all bodies. For more information or specific inquiries, please contact access@townhallseattle.org.
Economic Accommodations
Town Hall believes that everyone deserves access to fresh ideas, and all Town Hall-produced programs are free for everyone age 22 and under. If cost poses a barrier to your attendance at one of our events, please contact us at patronservices@townhallseattle.org. 
Please note that Town Hall does not dictate ticket prices for organizations renting our stages. Our ticketing structure and free youth tickets do not extend to programs produced by rental partners.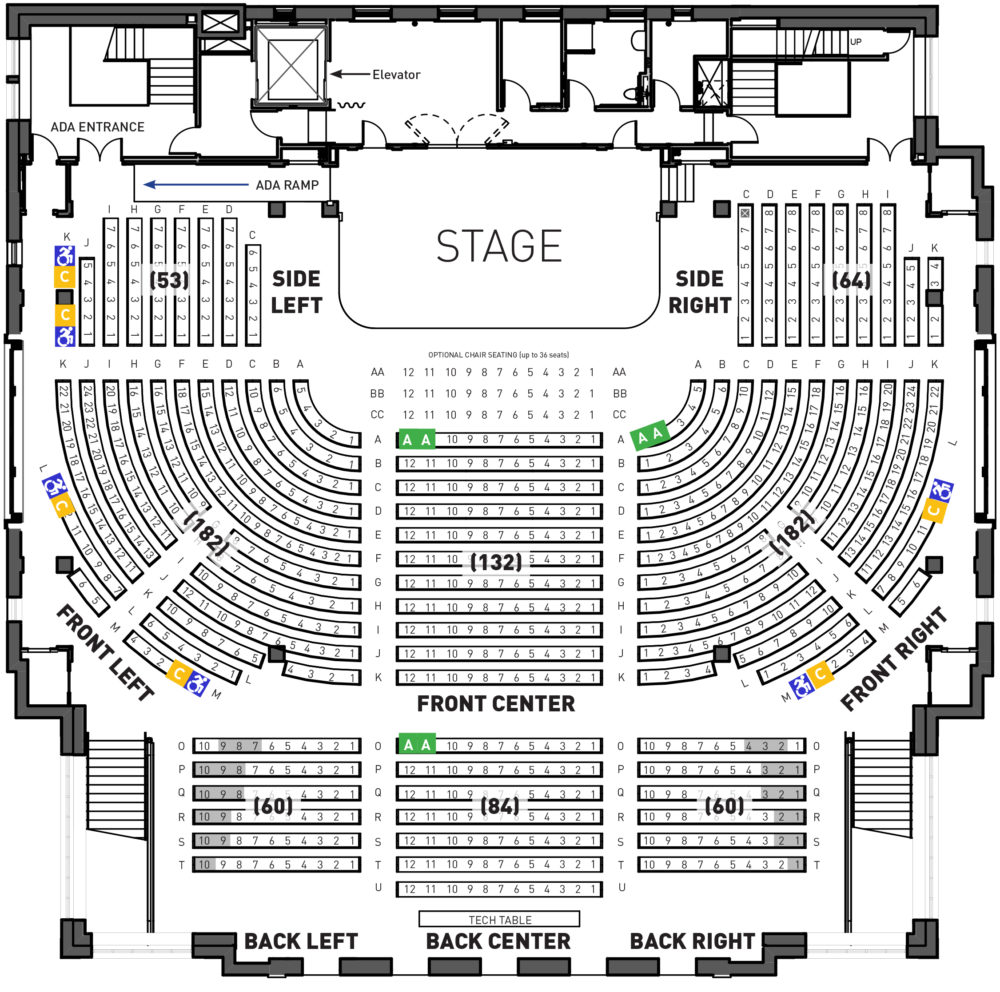 A Note for Parents/Guardians
With the exception of select events, Town Hall Seattle does not have age suggestions or restrictions for our programming. We ask that our patrons read the full event descriptions on our website prior to purchasing tickets and attending to make the best choices for themselves and/or any younger guests who might be joining them.
Almost all Town Hall events are unscripted; by nature, our events leave space for open discussion, inquiry, and spontaneity. Conversations, subject matter, and musical set lists may evolve throughout an event without prior notice; should difficult subject matter come up during an event, patrons are always welcome to step into the lobby to take a break before returning to the venue space.
As always, harassment, hate speech, and language that challenges the civil or human rights of any individual or community are not tolerated. You can read our full Community Code of Conduct here.
If you have any specific questions about the content of an event, please contact us at info@townhallseattle.org.
Looking for more?
Get answers to questions about ticketing, exchanges and refunds, and more on our FAQ page.