Seattle, it's been awhile since we've gathered together in celebration of books, authors, and all things wordy. That's why Town Hall is thrilled

to invite you to the first chapter of something big: an annual Writers Festival that pays tribute to everything we love about the written word.

Welcome to Volume I: Humble Beginnings. September 16 and 17,

gather at Town Hall's historic building for an extraordinary roster of fiction and non-fiction authors. Come and go as you please for book signings and tasty food, snag $10 featured titles from our friends at Third Place Books (Saturday only, while supplies last!), and surround yourself with the good company of curious readers just like yourself, here in our marvelous City of Literature.
September 16-17, 2022 Town Hall Seattle 1119 8th Avenue
Get Tickets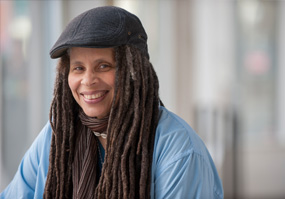 Jourdan Imani Keith
Opening Invocation with Seattle's 2019- 2022 Civic Poet

Friday, 9/16 at 6:20PM
Jourdan Imani Keith, a student of Sonia Sanchez, is a poet, essayist, playwright, naturalist, and activist. Her writing blends the textures of political, personal and natural landscapes to offer voices from the margins of American lives.  A recipient of the 2018 Americans for the Arts award, her TEDx Talk, "Your Body of Water" became the theme for King County's 2016-2018 Poetry on Buses program. Her Orion Magazine essays, "Desegregating Wilderness" and "At Risk," were selected by Rebecca Skloot for the 2015 Best American Science and Nature Writing Anthology.
A keeper of culture and history in the Griot (gree-oh) storytelling tradition, Her ekphrastic poems were commissioned by the Northwest African American Museum to be featured as over-sized text on its walls during its Glass Orchidarium exhibit.  Keith's creation myth, "We Were All Water," was commissioned by Seattle Art Museum for a featured performance at the REMIX.  She has been awarded fellowships from Hedgebrook, Wildbranch, Santa Fe Science Writing workshop, VONA, and Jack Straw. As Seattle Public Library's first Naturalist-in-Residence, she designed "Natural Literacy," a curriculum linking environmental and early childhood literacy.
Keith is the founder and director of the gender, ethnicity and environmental justice organization, Urban Wilderness Project. She's received awards from University of Washington, Artist Trust, 4Culture, and Seattle's Office of Arts and Culture. Her memoir in essays, Tugging at the Web is forthcoming from University of Washington Press.
Get Tickets