The Reading Room
Singularly suited for personal collaboration and connection.
70 Capacity
By-The-Hour Rentals
Ideal for board meetings, receptions, & small presentations
---
Ready for more info?
Submit Inquiry Form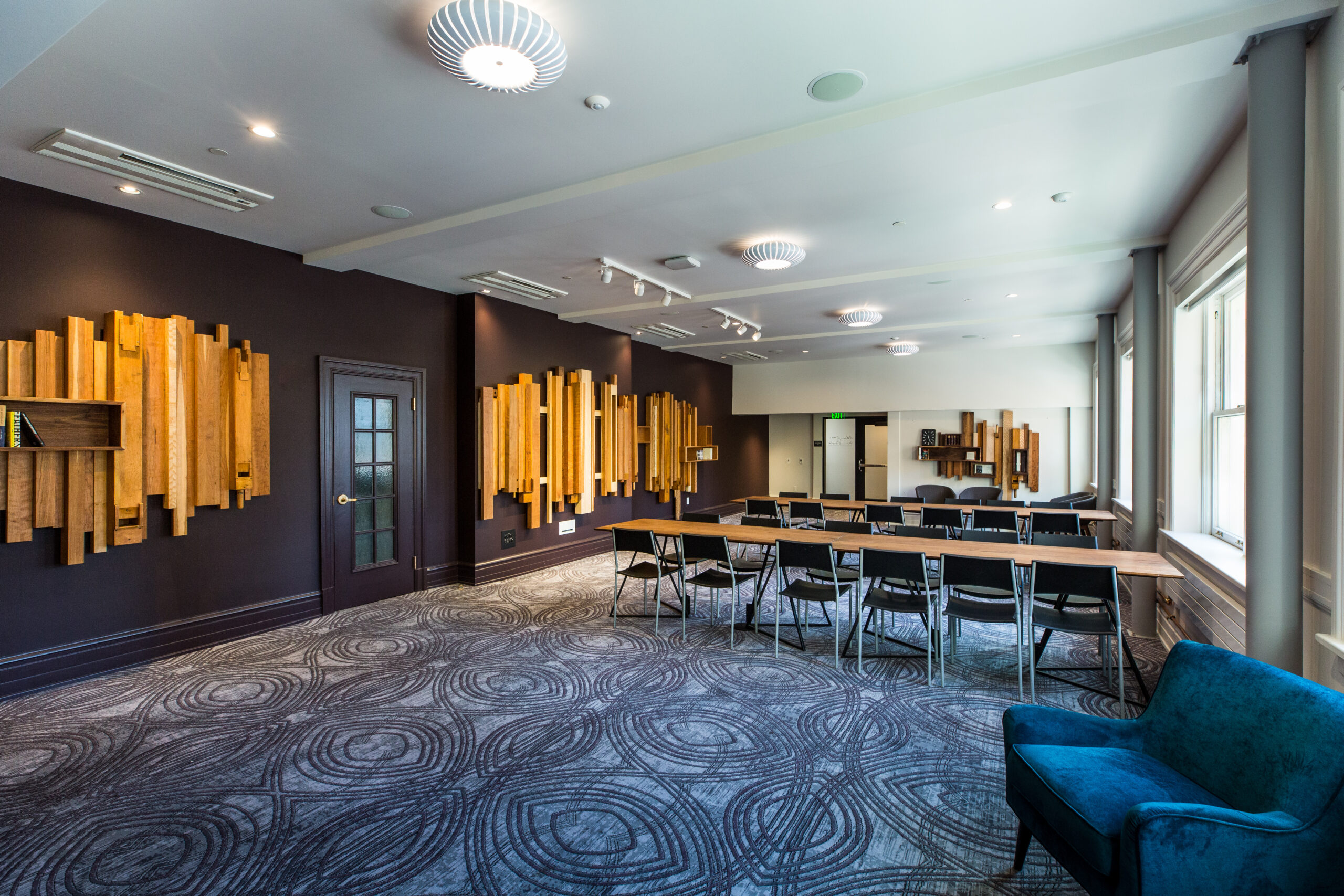 View More Images
Downloads
Spec Sheet
Ground Plan (Theatre Style)
Ground Plan (Banquet Style)
Space Overview
Room Specs
Room Size: 830ft2
Room Dimensions: 40ft-6in X 20ft-6in
Room Capacity: 70 (theatre style setup); 100 (reception setup)
Stage Dimensions: No stage
Floor: Carpeted
Features
Lectern
4 Library Tables
(70) Black Chairs
Lighting Equipment
Architectural lighting with touchscreen light controls
Sound & Media Equipment
(2) 75" Samsung DM75E LCD TVs
Hearing Loop System
Built-in Auto Mic System (4 inputs) (additional fee)
Portable Allen & Heath QU-16 sound console (16 inputs) (additional fee)
Download full spec sheet for detailed inventory.
Building-Wide Sound Equipment
Shared between spaces, subject to availability.
Wired Microphones
(9) Shure SM58
(3) Shure SM58S (with on/off switch)
(4) Shure SM57
(2) Audio Technica AT2010
(1) Rode NT4 Stereo Microphone
Wireless Microphones
(4) Shure ULXD4 Wireless Reciever
(4) Shure ULXD2 Handheld Trasmitter Mic
(4) Shure ULXD1 Body Pack Trasmitter
(4) Shure 4080 Cardioid Lavalier Microphone
(4) DPA 4166 Flex Omnidirectional Headset Microphone
Misc. Sound Equipment
(1) Radial Passive Stereo Direct Box
(1) Radial Passive Direct Box
(1) Radial Active Direct Box
(4) Whirlwind Direct Box Director
(1) Whirlwind Active Press Box
Assorted snakes, cables, and mic stands. Additional equipment available upon request.