Earshot Jazz Society
Wolfgang Muthspiel Trio
With Guitarist Wolfgang Muthspiel, Bassist Scott Colley, and Drummer Brian Blade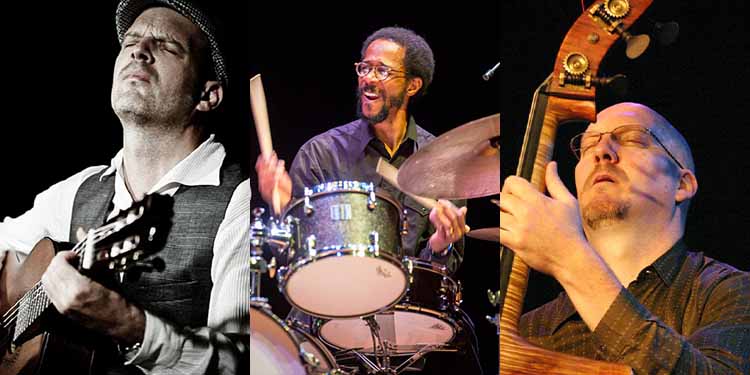 The Wolfgang Muthspiel Trio is a powerhouse band, featuring Austrian guitarist Wolfgang Muthspiel, bassist Scott Colley, and drummer Brian Blade. Acclaimed by The New Yorker as "a shining light" among today's jazz guitarists, Muthspiel, whose artistry is praised in both Europe and the U.S., is known for his work on both acoustic and electric guitar, exemplified by his melodic brilliance. He's also known for "his clean chordal structures, his descents into dissonance, his satisfying resolutions" (DownBeat). Bassist, composer, and four-time Grammy nominee Scott Colley is also much-lauded, especially by those he works with like Joshua Redman who notes, that Colley has a "natural, intuitive, empathic sense of how to bring the most out of the other musicians and the music he's playing." Brian Blade who is "widely recognized as one of the finest drummers in modern jazz" is known for his "virtuosic rhythmic finesse" (NPR).
This trio of close friends recently released an album together titled Angular Blues on ECM Records, which has garnered much positive press. George W. Harris from Jazz Weekly sums up its success, writing: "…rich and pastoral interplay is created by guitarist Wolfgang Muthspiel as he leads a symbiotic trio with Scott Colley on bass and deft drummer Brian Blade."
Expect an evening of stunning music from this trio!
About Earshot Jazz
Earshot Jazz has a mission to cultivate a vibrant jazz community to ensure the legacy and progression of the art form by engaging audiences, celebrating artists, and supporting arts education. They present or co-present nearly 100 concerts each year, and foster a deeper connection to jazz's rich cultural history through artist panel discussions, workshops, and other educational programs.
---
Presented by Earshot Jazz.