We Need a Reckoning
Poetry, Essays, and Memoir by Tacoma-area Women of Color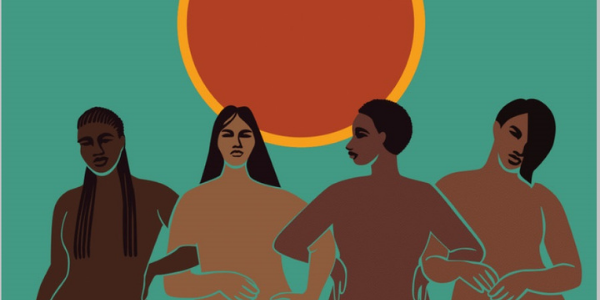 We Need a Reckoning is a deeply powerful collection of poetry, essays, and memoir by women and non-binary people of color in the Tacoma, Washington area. Organized into five parts — wind, soil, water, sky, and breath – and featuring creative writing by thirty-one contributors, the collection is simultaneously a rallying cry for the land and people we build our homes in; a spell for strength and safe passage through tribulation; and a celebration of the power and brilliance of women.
In a panel discussion moderated by Blue Cactus Press publisher Christina Vega, contributors Krista Pérez, Katharine Threat, Lydia K. Valentine, and Jesi Hanley Vega will discuss their work, perform readings from We Need a Reckoning, and invite questions from audience members.
---
Panelists
Krista Pérez, founder and president of the Tacoma Women of Color Collective (TWCC), has spent the bulk of her education and career learning and prioritizing anti-racist, equitable, and community-centered work. Her multi-disciplinary perspective allows her to view her work through several lenses which include being the daughter of an immigrant father and migrant worker mother, her undergraduate degree in law, economics and public policy, small business/entrepreneurial knowledge, and passion for community organizing. These experiences inform the work that Krista has done through TWCC, The Community Market (her PoC-centered market), and her equity consulting business, Pérez Consulting.
Katharine Threat is a mixed-race writer from the D.C. area who focuses her writing on the subjects of race, identity, and the concept of home. She graduated from the University of Puget Sound with a BA in Art History and English Creative Writing and is passionate about generating and maintaining safe spaces for young artists to express themselves and share their art. She wants to work with contemporary artists of all media and foster sympathetic, earnest, and socially active communities through art.
Lydia K. Valentine, is a playwright and poet, director and dramaturg, editor and educator. Her proudest accomplishment, though, is being a mom to two creative, intelligent, and caring individuals and activists. In her own writing and the projects to which she contributes through Lyderary Ink, Lydia seeks to amplify the voices of those who are often stifled, ignored, and marginalized in what has been the accepted narrative of the United States. Lydia's first poetry collection, Brief Black Candles, was published in November 2020 by Not a Pipe Publishing. She is the current Tacoma Poet Laureate.
Jesi Hanley Vega is a native of The Bronx and a transplanted Tacoman. A former screenwriter and documentary filmmaker, Jesi now finds joy as a book editor, writing instructor, and communications consultant. When not working, Jesi loves writing fiction, practicing guitar, and bouncing on her mini-trampoline. She's also a fantastic cook. Jesi is the mom of two and the stepmom of two more, and is deeply grateful for her loving partner, Marc.
Moderated by Christina Vega.
---
Presented by Town Hall Seattle.