Town Hall Seattle, Seattle Escribe, and Hablemos, escritoras present
Voices, Words, and Books
An Unprecedented Literary Phenomenon in Spanish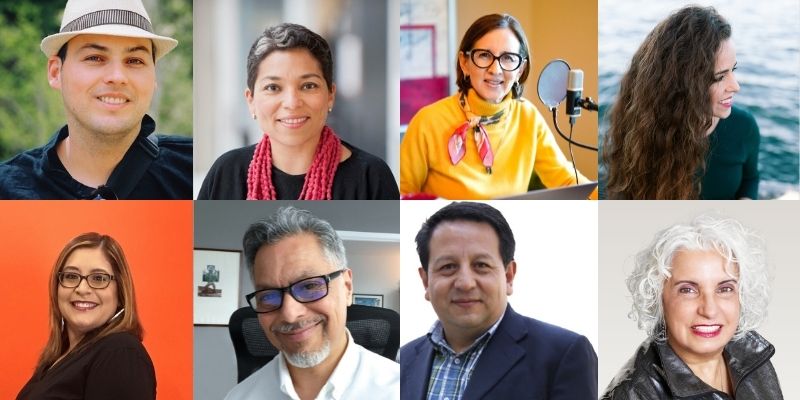 On the first stop of the "Las cuatro esquinas Tour" around the United States, Dr. Adriana Pacheco and Seattle Escribe bring together a panel of key players in education, culture, and literature to discuss names, topics, trends and voices in literature by writers of hispanic heritage and their impact on the culture.
The literature of writers from Spanish-speaking countries who write from the United States, Latin America, the Caribbean, and Spain is impacting the world in an unprecedented way. Awards, publishing houses, curated lists, and translations of new books give proof of the movement. Hablemos, escritoras has followed these changes and recognizes synergies that mark our contemporary world, as well as the causes and motivations that have driven the phenomenon.
This talk, part of the 2022  "Las cuatro esquinas Tour" around the United States, will allow for conversations with cultural advocates, members of the community, and especially readers about what we have learned after years of work. Most importantly, it offers space to learn what is happening in our region, the challenges we face, and the road that still needs to be traveled in recognizing new names, topics, and trends. The tour's goal is to broaden the scope of the conversation beyond regional borders and to encourage and foster meaningful, nationwide conversations about the presence, impacts, and influences of literature, language, and the hispanic culture in the United States.
This event will be presented in English.
Presented by Town Hall Seattle, Seattle Escribe, and Hablemos, escritoras.
---
Participants
Catalina Marie Cantú (Xicana) is of Indigenous Mexican/Madeiran heritage and is a multi-genre writer, interdisciplinary artist, Jack Straw Fellow, and Alum of VONA/Voices and The Mineral School. She has received funding from Artists' Trust, Hugo House, Centrum, and Hedgebrook. Her poems and stories have been published widely and anthologized. Cantú earned a B.A. in La Raza Studies and a J.D. from the University of Washington, where she was a co-founding member of the groundbreaking Latinx groups MEChA and Teatro del Piojo. As a volunteer attorney, she managed the King County Bar Association Bilingual Spanish Legal Clinic. She is a co-founding member and current Board President of La Sala Latinx Artists and former chair of Los Norteños NW Latino Writers. As a writer, Cantú's goal is to bring her Latinx BIPOC family viewpoint to the page and provide stories to connect readers to themselves and their familias. She is currently finishing her braided essay collection and her first YA novel. She lives on the unceded traditional land of the Coast Salish peoples, specifically, the first people of Seattle, the Duwamish People.
Miguel Guillén joined ArtsWA in 2016 and currently serves as Program Manager for the Grants to Organizations program. As a seasoned arts administrator, Miguel provides support to community-based arts organizations and projects, small arts groups, and artists across Washington. He has previously managed arts programs for the private sector. Born in Mexico and raised in the Skagit Valley of Washington State, Miguel received an Arts Management Certificate from Seattle Central College. He holds a Bachelor of Fine Arts Degree from Cornish College of the Arts, Seattle. He is a practicing visual artist.
Claudia Castro Luna is an Academy of American Poets Poet Laureate fellow (2019), WA State Poet Laureate (2018-2021), and Seattle's inaugural Civic Poet (2015-2018). Castro Luna's newest collection of poetry, Cipota Under the Moon, is forthcoming in May of 2022 from Tia Chucha Press. She is also the author of One River, A Thousand Voices, the Pushcart-nominated Killing Marías, which was also shortlisted for WA State 2018 Book Award in poetry, and the chapbook This City. Her most recent non-fiction is in There's a Revolution Outside, My Love: Letters from a Crisis. Living in English and Spanish, Claudia writes and teaches in Seattle on unceded Duwamish lands where she gardens and keeps chickens with her husband and their three children.
Alfonso Mendoza is a Mexican author that has written and published more than forty peer reviewed academic articles and chapters in the areas of economics, finance, and social sciences. As a creative writer, he enjoys writing short stories and poetry. Alfonso was a founding member of Seattle Escribe and participated as a student in the first writing workshop. Since then, he has remained in close contact with creative writing and the writers in the group. He is the current president of Seattle Escribe.
José Luis Montero is passionate about storytelling regardless of the medium. After dabbling in radio, photography, and filmmaking, he turned his artistic attention towards the written word, both in English and Spanish. He was born and raised in Mexico and has lived most of his adult life in Seattle. He earned a certificate in Literary Fiction from University of Washington and a Master in Narrative and Poetry from Escuela de Escritores in Madrid. Upon his return from Spain, he worked as a production intern for Copper Canyon Press and assistant editor of poetry for Narrative Magazine before becoming a resident of the Jack Straw Writers Program in 2021. He is the former president of Seattle Escribe, a nonprofit promoting Spanish literature, and currently serves on the board of Seattle City of Literature.
Dr. Adriana Pacheco was born in Puebla, Mexico and is a naturalized American Citizen. She sits at, and is the former Chair of, the International Board of Advisors at University of Texas Austin. She is an Affiliate Research Fellow at Llilas Benson, a Texas Book Festival Featured Author (2012), has several publications in collective books and magazines and has edited several books like Romper con la palabra. Violencia y género en la literatura mexicana contemporánea (Eón, 2017), and Para seguir rompiendo con la palabra. Dramaturgas, cineastas, periodistas y ensayistas mexicanas contemporáneas (Literal/Eón, 2021). She is the founder and producer of Hablemos Escritoras podcast and its accompanying encyclopedia, and founder of the first online bookstore for the United States focusing on women writing in Spanish or of Hispanic heritage: Shop Escritoras. She is currently working on several new books.
Rubi Romero has worked as a content and policy manager, technical account manager, and UX Researcher at Amazon. In addition, Rubi serves as one of the leaders for Latinos@; an affinity group at Amazon, as a Career Development Director, and as a project manager for the Hispanic Heritage Month. Rubi graduated from the University of Washington with a Master's Degree in Digital Business and a B.A. in Communications and Sociology. Previously, she was a Project Manager for Microsoft and a Program Director for a non-profit organization where she built a State Program to assist Latino Victims of Domestic Violence, Sexual Assault, and Human Trafficking. Rubi is originally from Mexico City and has lived in Seattle since 1994.
Kristen Millares Young is a journalist, essayist and novelist. Named a Paris Review staff pick, her debut novel Subduction won Nautilus and IPPY awards. Her short stories, essays, reviews and investigations appear most recently in the Washington Post, The Rumpus, PANK Magazine, the Los Angeles Review, and others, as well as the anthologies Alone Together, which won a Washington State Book Award in general nonfiction, and Advanced Creative Nonfiction: A Writer's Guide and Anthology. She is the editor of Seismic: Seattle, City of Literature, a 2021 Washington State Book Award finalist in creative nonfiction. A former Hugo House Prose Writer-in-Residence, Kristen was the researcher for the New York Times team that produced "Snow Fall," which won a Pulitzer Prize.