Veronique Tadjo with Kevin Kibet (podcast)
In The Moment Podcast, Ep. 86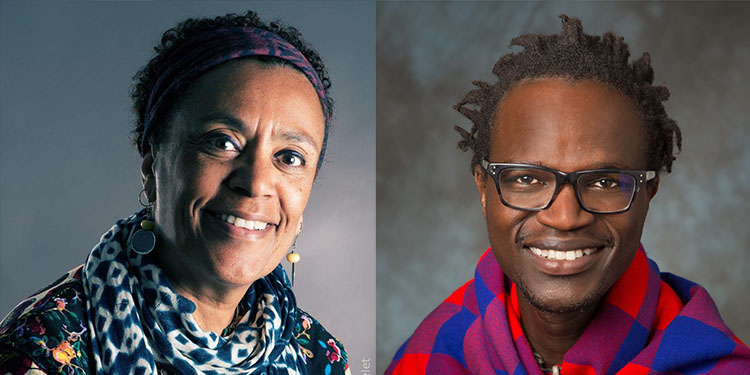 In the mid 2010s, the Ebola outbreak devastated West Africa, sending a message that diseases recognize no borders, political parties, or faiths. In this week's episode, correspondent Kevin Kibet sits in conversation with poet and novelist Veronique Tadjo about her novel In the Company of Men, which presents a timely fable that illustrates the terrible extent of the Ebola epidemic, through the eyes of those affected in myriad ways. Beginning with two boys who venture from their village to hunt in a nearby forest and unwittingly return with the insidious disease, she explores the experiences of the doctor, the student who works as a volunteer gravedigger, the grandmother, and more in a series of moving snapshots. Tune in for this conversation, acutely relevant to our times in light of the coronavirus pandemic, that explores critical questions about how we cope with a global crisis and how we can combat fear and prejudice.
Véronique Tadjo is a poet, novelist, academic, and artist from Côte d'Ivoire. She earned a doctorate in Black American Literature and Civilization from the Sorbonne, Paris IV, and went to the United States as a Fulbright scholar at Howard University in Washington, DC. She headed the French Department of the University of the Witwatersrand in Johannesburg until 2015. Her books have been translated into several languages, from The Blind Kingdom (1991) to The Shadow of Imana: Travels in the Heart of Rwanda (2001) and Queen Pokou: Concerto for a Sacrifice (2005), which was awarded the Grand Prix de Littérature d'Afrique Noire in 2005.
Kevin Kibet is a global villager, with Nandi, Kenyan, PanAfrican, and American influence. A curious soul, forever endeared by and applying self to justice.
---
Presented by Town Hall Seattle.