In The Moment Podcast, Ep. 132
Treva B. Lindsey with Leoma James
Violence, Black Women, and the Struggle for Justice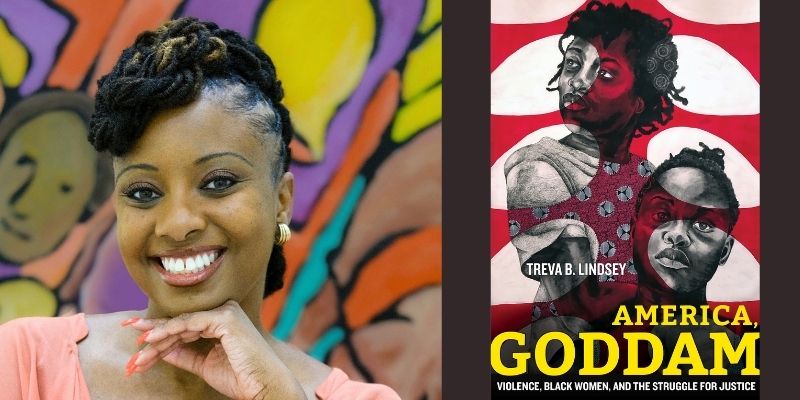 Studies clearly indicate that Black women, girls, and non-binary people face disproportionately high rates of physical and sexual violence, and face a greater risk of death by homicide than women and non-binary people of white, Latinx, and Asian/Pacific Islander descent. What forces have contributed to a legacy of violence, and is justice possible?
In America, Goddam, Black feminist historian Dr. Treva B. Lindsey explores the combined force of anti-Blackness, misogyny, patriarchy, and capitalism in the lives of Black women and girls in the United States today. Dr. Lindsey explains that the struggle for justice begins with a reckoning of the pervasiveness of violence against Black women and girls in the United States. Through a combination of history, theory, and memoir, Dr. Lindsey highlights the gender dynamics of anti-Black violence and addresses how the circumstances of this violence remain underreported and understudied.
Dr. Lindsey also shows that the sanctity of life and liberty for Black men has been a rallying cry within Black freedom movements – movements that Black women are rarely the focus of despite their lived experiences, frontline participation, and leadership in demanding justice. Across generations and centuries, their refusal to remain silent about violence against them led many to envision and build toward Black liberation through organizing and radical politics.
In the 132nd episode of Town Hall's In the Moment podcast, Dr. Lindsey and Leoma James discuss the collective journey toward just futures for Black women.
Dr. Treva B. Lindsey is Associate Professor in the Women's, Gender, and Sexuality Studies Department at Ohio State University and founder of the Transformative Black Feminism(s) Initiative in Columbus, Ohio.