Town Music: Local Chamber Perspectives
An Evening of Music for the Moment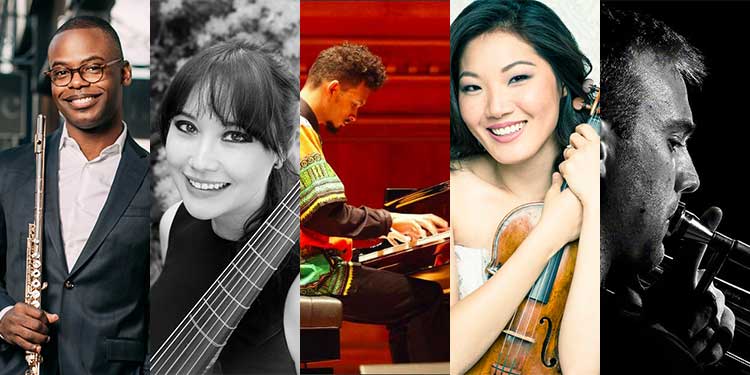 Wednesday, October 28, 2020, 7:30PM
Media replay for this event is no longer available!
This season, Town Music explores how digital spaces can enhance our experience of art, rather than simply remind us of what we are missing. In this first event of the season, series Artistic Director Joshua Roman has curated a special evening of music featuring five deeply personal performances from local chamber musicians, including two world premieres!
Each musician will perform and then provide thoughts on the impact and importance of their pieces as the night progresses. Join us for an exciting evening of local chamber excellence with local musicians playing music for the current moment!
Lineup:
Willem de Koch (trombone) with Wayne Horvitz (piano/electronics)
Sweeter Than the Day by Wayne Horvitz
Joe Williams (piano)
Piano Sonata (2016) by Brian Raphael Nabors
Rachel Lee Priday (violin)
Echo by Melia Watras (world premiere)
Demarre McGill (flute)
Principal Brothers No. 1 by James Lee III (world premiere)
---
Willem de Koch is a trombonist, composer, and educator. He is co-founder of The Westerlies, a local brass quartet. He has performed and recorded with a wide variety of artists including improvisational-music luminaries Wayne Horvitz and Bill Frisell, indie-folk outfit Fleet Foxes, electronic music duo Odesza, rapper/activist Common, indie-rock songstress Feist, and jass legends Wycliffe Gordon and George Duke, among others.
Wayne Horvitz is a composer, pianist, and electronic musician who has performed extensively throughout Europe, Asia, Australia, and North America. He is the leader of the Gravitas Quartet, Sweeter Than the Day, Zony Mash, The Four plus One Ensemble, and co-founder of the New York Composers Orchestra.
Joe Williams is a pianist who has enjoyed performing at numerous venues from The John F. Kennedy Center to various schools throughout Amman, Jordan. He has participated in masterclasses led by Marilyn Horne, Jon Nakamatsu, and Christian Tetzlaff, among others. This summer, he was featured on Tacoma's Orchestral Recital Series, Second City Chamber Series, and Gateways Music Festival.
Kevin Payne (lutenist) is active as a recitalist, accompanist, and continuo player in the Seattle area. Recent ensemble work includes performances with Seattle Symphony, Tempesta di Mare, il Giardino d'Amore, New York City Opera, Sinfonieorchester Liechstenstein, and more. His playing has been broadcast on a number of national radio programs, including Sunday Baroque and Performance Today.
Rachel Lee Priday (violin) is a passionate and inquisitive explorer in all her musical ventures, in search of contemporary relevance when performing the standard violin repertoire. She has appeared as soloist with major international orchestras,  and has been profiled in The New Yorker, The Strad, Los Angeles Times, and Family Circle.
Demarre McGill is principal flute of the Seattle Symphony. He has appeared as soloist with the Philadelphia Orchestra, Pittsburgh, Dallas, and more, and at age 15, the Chicago Symphony. Media credits include appearances on PBS's Live from Lincoln Center, A&E Network's The Gifted Ones, NBC's Today Show, NBC Nightly News, and with his brother Anthony when they were teenagers, on Mr. Rogers' Neighborhood.
---
Presented by Town Hall Seattle as part of the Town Music series.
Town Music Aficionados
Town Music Leadership Fund