Third Coast Percussion
Presenting the NW premiere of a new work by Philip Glass
Beyond Measure: Town Music 2018-2019 trailer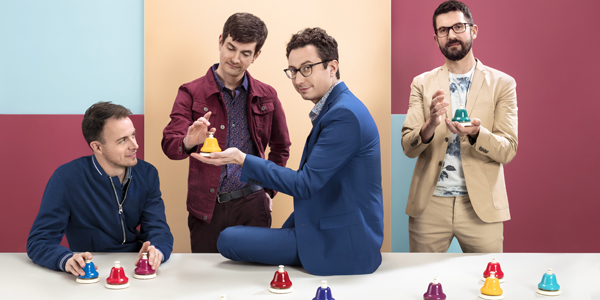 Called "hard-grooving musicians" by The New York Times, Chicago-based Third Coast Percussion has been recognized for their unique take on percussion instrumentation and integration of new media in performances. They join Town Hall's Town Music season to premiere a new work by renowned composer Philip Glass—his first ever composition specifically for a percussion ensemble—co-commissioned in part by Town Hall. The performance will also feature new work commissioned by Gavin Bryars and original compositions by Third Coast Percussion that draw inspiration from Glass' work. Don't miss this must-see performance of Philip Glass's first and only percussion composition performed with the dynamic and inimitable charm of Third Coast Percussion.
Third Coast Percussion is a Grammy-winning, artist-run quartet of classically-trained percussionists. For over ten years, the ensemble has forged a unique path in the musical landscape with virtuosic, energetic performances that celebrate the extraordinary depth and breadth of musical possibilities in the world of percussion. They have been praised for "commandingly elegant" (New York Times) performances, the "rare power" (Washington Post) of their recordings, and "an inspirational sense of fun and curiosity" (Minnesota Star-Tribune).
Perpetulum by Philip Glass was commissioned for Third Coast Percussion with lead support from the Maxine and Stuart Frankel Foundation. The work was co-commissioned by Elizabeth and Justus Schlichting for Segerstrom Center for the Arts, Bravo! Vail Music Festival, San Francisco Performances, Town Hall Seattle, Performance Santa Fe, the University of Notre Dame's DeBartolo Performing Arts Center, and the Third Coast Percussion New Works Fund, with additional support from Friedrich Burian, Bruce Oltman, MiTO Settembre Musica, The Saint Paul Chamber Orchestra's Liquid Music Series, and the Percussive Arts Society.
---
Presented by Town Hall Seattle.