Town Hall Seattle and Northwest Folklife present
The Gil Scott-Heron Tribute Band
Music, Art, and Poetry of the Civil Rights Movement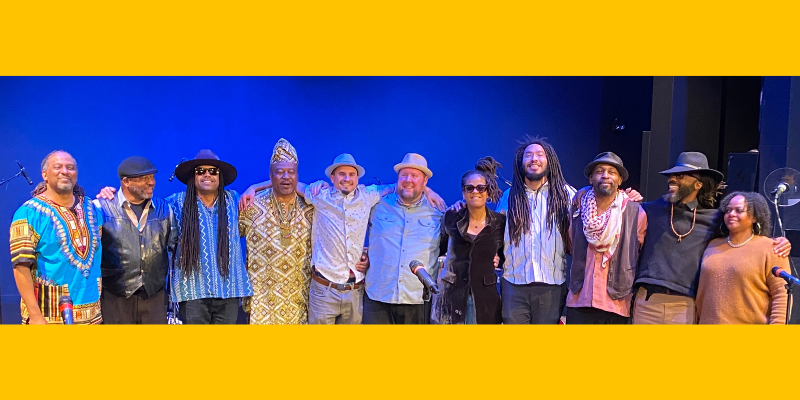 In a fusion of jazz, soul, funk, and spoken word, the Gil Scott-Heron Tribute Band explores the Civil Rights Movement — a time marked by triumphant resistance in the form of music, dance, art, poetry, and collective voice. Move, groove, and learn how this movement celebrated great joy amidst tremendous adversity, demonstrating that liberation can be achieved through thumping rhythms, vibrant colors, and beautiful wordplay.
About the Gil Scott-Heron Tribute Band
Born in Chicago in 1949, Gil Scott-Heron was a poet, author, composer, and recording artist whose groundbreaking work laid the foundation for modern hip-hop music in the 1970s and 1980s. Known primarily for his energetic spoken-word performances, Scott-Heron's music pulsed with the joy and pride of being Black while reflecting on struggles for justice. He passed away in 2011, but his legacy lives on through music and messaging that remains just as relevant today as it did in decades past.
The Gil Scott-Heron Tribute Band features an ensemble of talented local musicians that celebrate his inspirational voice through funky beats and song-like poems.
Performers
Ayesha "Musicbox" Brooks – vocals
Darrius Willrich – keyboards, vocals
Benjamin Hunter – vocals
Camilo Estrada – bass, arrangements, musical director
Freddy Fuego – trombone, flute
Shakiah – poetry, spoken word
Ricardo Guity – percussion
Chris Patin – drum set
Daniel Rapport – guitar
About Saturday Family Concerts
This half of the season, Town Hall Seattle and Northwest Folklife focus on the theme of Art as Empowerment, exploring how protest music liberates and validates identity. This 4-part series brings awareness to issues that affect everyone at any age, encouraging young people and families to explore their heritage — past, present and future — as a source for individual and collective identity.
As with all of our Saturday Family Concerts, this event is free for ages 22 and under.
---
Presented by Town Hall Seattle and Northwest Folklife. This event is also supported by our media sponsor, Seattle's Child.