Town Hall Seattle and KUOW present
That's Debatable
Technology Will Save Us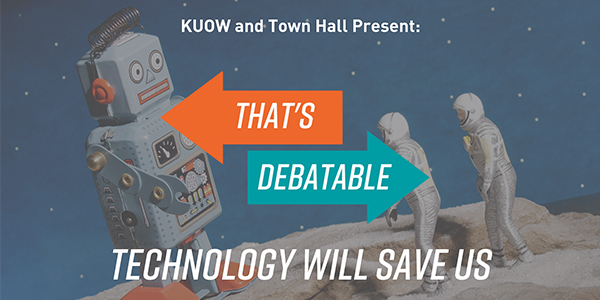 Will advances in artificial intelligence, geoengineering, and bioengineering save or destroy the human race? That's debatable. KUOW and Town Hall invite you to join us at the Langston Hughes Performing Arts Institute on Sunday, March 24 for the latest event in KUOW's That's Debatable series. At this Oxford-style debate, a panel of smart Seattlites square off on the proposition, "Technology will save us." The conversation kicks off with an audience vote. Then both sides give their arguments and then you, the audience, vote again. The team that convinces more people to join their side wins. Will you change your mind?
ARGUING YES
Elizabeth Scallon is the head of WeWork Labs, Northwest, a global entrepreneurship program which enables Startups in Seattle to leverage the WeWork global platform to accelerate their Growth.
Vinay Narayan is the Vice President of Product Management and Operations for HTC VIVE as well as a Board Member and Adviser for numerous VR and AR companies.
ARGUING NO
Hanson Hosein is the Director University of Washington Communication Leadership Program and the President of HRH Media Group LLC, a media production and communications strategy firm that has worked with organizations such as Microsoft, Intel, and Facebook.
Amy Webb is a quantitative futurist, author, and Founder of the Future Today Institute, a leading foresight and strategy firm that helps leaders and their organizations prepare for complex futures.
---
Presented by Town Hall Seattle and KUOW.