Suzanne Simard with Steve Scher (podcast)
In The Moment Podcast, Ep. 97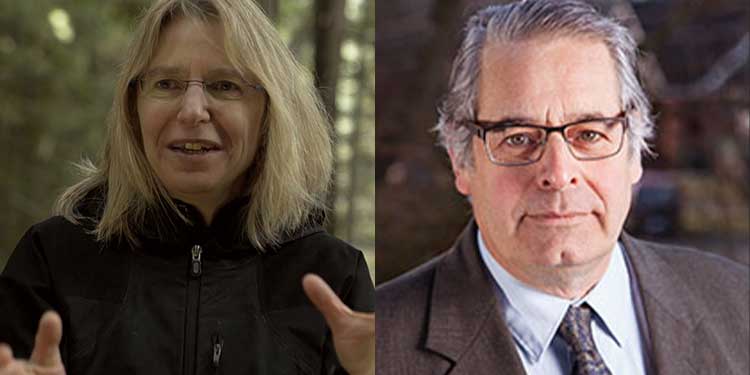 For hundreds of years, trees have lived side by side, evolving, perceiving one another, learning and adapting their behaviors, recognizing neighbors, and remembering the past. They compete and cooperate with one another with sophistication, eliciting warnings and mounting defenses. And at the center of it all are the Mother Trees, mysterious, powerful forces that connect and sustain the others that surround them. So Suzanne Simard, plant communication expert, contends, and she joins us for this episode to talk with Senior Correspondent Steve Scher about discovering this tree communication and its intersection with her own story of family and grief. In a personal and revealing conversation, Simard shares tales of her early days as a child cataloging the trees in the rain forests of British Columbia, chronicling her story of love and loss, observation and change, risk and reward. Through Simard's personal experiences and connectedness to the Mother Tree, they invite us to explore our understanding of who we are and our place in the world.
Dr. Suzanne Simard is a Professor of Forest Ecology at the University of British Columbia, where she currently leads The Mother Tree Project and co-directs the Belowground Ecosystem Group. Dr. Simard has earned a global reputation for pioneering research on tree connectivity and community, and studying the impact on the productivity, health, and biodiversity of forests. Her work has been published widely, with over 170 scientific articles in peer-reviewed journals, including Nature, Ecology, and Global Biology, and she has co-authored the book Climate Change and Variability.Her research has been communicated broadly through three TED Talks, as well as articles and interviews in The New Yorker, National Geographic, and more.
Steve Scher is a podcaster, interviewer, and teacher. He worked in Seattle public radio for almost 30 years. He has taught at the University of Washington since 2009. He is Senior Correspondent for Town Hall Seattle's In The Moment podcast.
---
Presented by Town Hall Seattle.