Susanna Ryan with Knute Berger
A Guide to Seattle's Offbeat and Overlooked History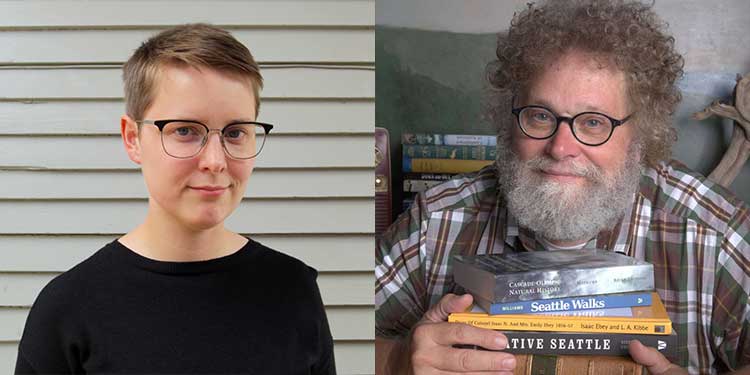 Have you ever visited the defunct coal chutes on Capitol Hill? Do you know where you can find a 100-year-old sidewalk or the nearest pocket park? Susanna Ryan, local cartoonist and creator of Seattle Walk Report, is joined by Crosscut's Knute "Mossback" Berger for a fresh look at Seattle's hidden historical gems.
Ryan gives us a preview of her new book Secret Seattle with a visual presentation exploring the weird and wonderful hidden history behind some of the city's most overlooked places, architecture, and infrastructure. Local history buffs, walking enthusiasts, and armchair explorers alike can revel in the hidden locales uncovered, and revealed, by Ryan.
Self-taught cartoonist, illustrator, and designer Susanna Ryan is the artist behind Seattle Walk Report, a popular comic series hosted on Instagram and published as a book in 2019. With her keen eye for Seattle's overlooked landmarks and everyday ephemera, she captures everything that makes the Emerald City magical. Her work has appeared in Seattle Magazine, The Stranger, Seattle Refined, The Evergrey, and the Seattle Review of Books, as well as on KOMO News and 107.7 The End.
Knute "Mossback" Berger is Crosscut's Editor-at-Large and host of the Mossback's Northwest TV series on KCTS 9. He writes about politics and regional heritage. Previously he served as Editor-in-Chief of Seattle Weekly, Editor & Publisher of Eastsideweek, and as Managing Editor of Washington Magazine. He is Editor-at-Large for Seattle Magazine and has written two books, Pugetopolis and Space Needle, Spirit of Seattle. He is a regular commentator on KUOW-FM and a Rainier Club Fellow.
---
Presented by Town Hall Seattle.