Town Hall Seattle and Kubota Garden Foundation present
Spirited Stone (livestream)
Lessons from Kubota's Garden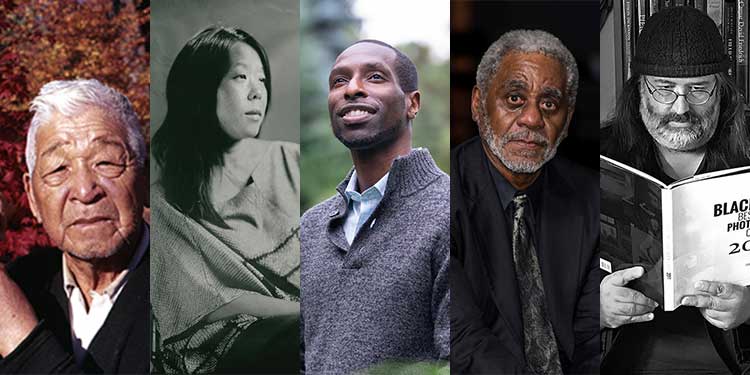 Fujitaro Kubota, whose unique gardens transformed Seattle's landscape in the 20th century, immigrated to the US in the early 20th century, worked as a nurseryman, and eventually bought 20 acres of clear-cut forest in southern Seattle that he shaped into a beautiful and enduring Japanese garden. He also created a memorable garden in the Minidoka prison camp while he was incarcerated there during World War II; upon his repair to Seattle, he focused on Kubota Garden, which had fallen into disrepair.
Today, Kubota Garden serves one of Washington's most diverse zip codes. Now, novelists, poets, artists, and community members examine Kubota's legacy in Spirited Stone: Lessons from Kubota's Garden. In this panel discussion moderated by poet Shin Yu Pai, contributors to Spirited Stone Dr. Charles Johnson, Nathan Wirth, and Marcus Harrison Green talk about their connections to Kubota Garden and how it has inspired them.
Dr. Charles Johnson is professor emeritus at the University of Washington. He is the author of 25 books, a novelist, philosopher, essayist, literary scholar, short-story writer, cartoonist, illustrator, and a screen-and-teleplay writer. Dr. Johnson's most recent publications are The Way of the Writer: Reflections on the Art and Craft of Storytelling, his fourth short story collection, Night Hawks, and GRAND: A Grandparent's Wisdom for a Happy Life.
Nathan Wirth is a self-learned photographer who seeks to express his unending wonder for the fundamental fact of existence. In his work, he attempts to focus on the silence that we can sometimes perceive in between the incessant waves of sound that often dominate our perceptions of the world. Wirth currently makes his living teaching English Composition at City College of San Francisco.
Marcus Harrison Green is the founder and publisher of the South Seattle Emerald, a columnist for The Seattle Times, a former Reporting Fellow with YES! Magazine. After an unfulfilling stint working for a Los Angeles based hedge-fund in his twenties, Marcus returned to his community determined to tell its true story, which led him to start the South Seattle Emerald, and eventually move on to cover the area as a reporter for the Seattle Times.
Shin Yu Pai is a podcast correspondent and produces Lyric World: Conversations with Contemporary Poets for Town Hall. She is a former Town Hall Inside / Out artist-in-residence and served as the fourth Poet Laureate of the City of Redmond from 2015 to 2017. She is the author of ten books of poetry, including most recently Ensō.
---
Presented by Town Hall Seattle and Kubota Garden Foundation.