Structural Engineers Foundation of WA present
SEFW 2021 Fall Forum
Washington Sports Venues Then & Now: Evolutions in Design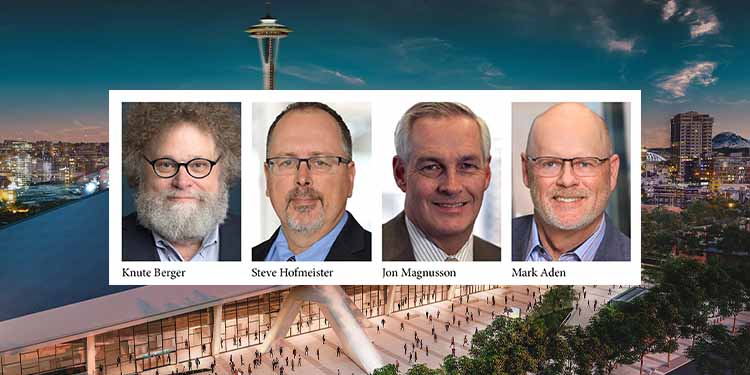 The Structural Engineers Foundation of Washington (SEFW) is excited to announce details for its 11th Fall Forum, "Washington Sports Venues Then and Now: Evolutions in Design," to be held both in person at Town Hall Seattle and virtually livestreamed on Wednesday, November 17, 2021.
Local historian and journalist Knute Berger will present the stories behind several Washington sports venues and moderate a panel discussion with three structural engineers who brought them to life. With special attention given to the revolutionary reincarnation of the ClimatePledge Arena, the event will showcase history and evolution of venues all over Washington, including Husky Stadium, Martin Stadium, and more.
Panelists include: Steve Hofmeister, P.E., S.E., of Thornton Tomasetti in Kansas City; Jon Magnusson, P.E., S.E., of Magnusson Klemencic Associates in Seattle; and Mark Aden, P.E., S.E., of DCI Engineers in Spokane.
The event is free to all audiences and will be of interest to A/E/C industry professionals, students, history buffs, local sports fans, and the general public.
More information can be found at www.sefw.org and individuals may register at www.sefwforum.org. For in-person viewing, registration is requested for planning purposes; for virtual streaming, registration is required for access to viewing links.
SEFW is a 501(c)3 charitable nonprofit with the mission to advance the profession of structural engineering through scholarships, education, research, and outreach. The Fall Forum is its largest educational event of the year and has taken place every fall since 2011.
---
Presented by the Structural Engineers Foundation of Washington