Event Format:
In-Person & Livestream
Town Hall Seattle and Clarion West present
Sarah Salcedo, Nisi Shawl, Seanan McGuire, and Shiv Ramdas
Speculative in Seattle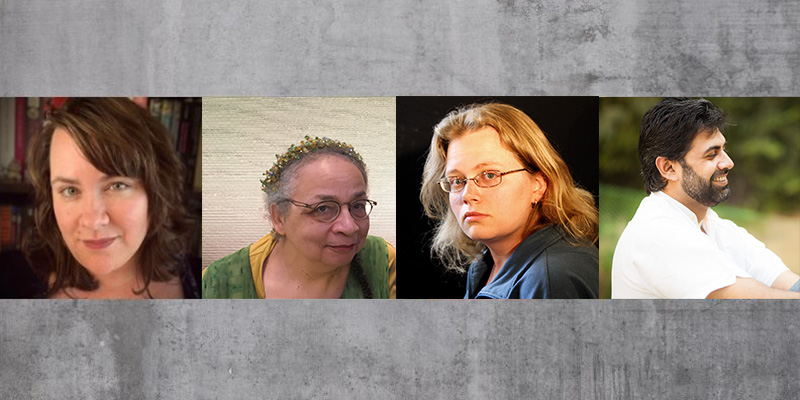 $5
Monday, May 23, 2022, 7:30PM
The Great Hall
1119 Eighth Avenue (enter on Eighth Avenue)
Seattle, WA 98101
A livestream of this event will be available.
Join our Spring 2022 Writer-in-Residence Sarah Salcedo for her second event, Speculative in Seattle, featuring local science fiction and fantasy authors Nisi Shawl, Seanan McGuire, and Shiv Ramdas.
Seattle is not only a UNESCO City of Literature, it is one of the only UNESCO Cities of Lit in the world that's also a major hub of science fiction and fantasy (SFF). This event will feature a reading followed by a talk about how the Pacific Northwest is a hub for speculative lit from amazing SFF authors past and present, as well as programs like Clarion West, Norwescon, GeekGirlCon, PAX, and Emerald City Comic Con. The authors will also discuss how the region fuels our imaginations, from the nature around us to the space tech being created in the region, and dive into what makes us so weird and wonderful.
This event will have CART transcription and ASL interpretation.
Sarah Salcedo is an award-winning filmmaker, illustrator, and author. Her writing has been published in Uncharted Magazine, Hobart, Luna Station Quarterly, Hobart After Dark, Not Deer Magazine, Pacifica Literary Review, The Future Fire, Hypertext Magazine, and elsewhere. Her poetry has been featured at The Daily Drunk and their Marvelous Verses anthology. Her feature documentary, Promised Land, debuted in film festivals in 2016. She attended the 2022 Tin House Winter Workshop, will be attending the 2022 Tin House Summer Workshop, and is the Spring 2022 Writer-in-Residence for Town Hall Seattle. @SarahSalcedo | sarah-salcedo.com
Nisi Shawl is best known for fiction dealing with gender, race, and colonialism, including the Nebula finalist novel Everfair. They're also the coauthor of Writing the Other: A Practical Approach. Shawl is a cofounder of the Carl Brandon Society, and has served on the board of the Clarion West Writers Workshop for two decades. Honors include the Otherwise Award, the World Fantasy Award, two Locus Awards, and FIYAH Magazine's Ignyte Award. Shawl lives in Seattle proper, one block away from a beautiful, dangerous lake full of currents and millionaires. @NisiShawl | nisishawl.com
Seanan McGuire is the author of the Hugo, Nebula, Alex, and Locus Award–winning Wayward Children series; the October Daye series; the InCryptid series; the delightfully dark Middlegame; and other works. She also writes comics for Marvel, darker fiction as Mira Grant, and younger fiction as A. Deborah Baker. She won the 2010 John W. Campbell Award for Best New Writer, and in 2013 became the first person to appear five times on the same Hugo ballot. Seanan lives in Seattle with her cats, a vast collection of creepy dolls, horror movies, and sufficient books to qualify her as a fire hazard. @seananmcguire | seananmcguire.com
Shiv Ramdas is a multi-award nominated author of speculative fiction short stories and novels. In 2020 he became one of only two Indian writers to ever be nominated for a Hugo, a Nebula, and an Ignyte Award in the same year. His first novel, Domechild, was India's first mainstream cyberpunk novel. His short fiction has appeared in Slate, Strange Horizons, Fireside Fiction, Podcastle and other publications. He is a graduate of the Clarion West Writers Workshop and lives and writes in Seattle, Washington with his wife and three cats. @nameshiv | shivramdas.net
---
Presented by Town Hall Seattle and Clarion West.