Town Hall Seattle and Gage Academy of Art Present
Rose Frantzen with Gary Faigin
180 Portraits from One Small Iowa Town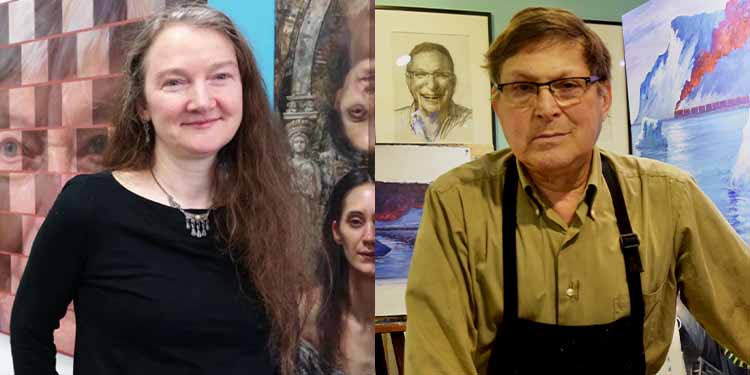 The work of Iowa artist Rose Frantzen is remarkable in its own right, putting her in the front rank of contemporary realists. But what really put her on the national map was an ambitious yearlong project to record the residents of her small Iowa town of Maquoketa through a massive collection of oil-painted portraits. Any resident was invited to sit for her in a makeshift studio, set up in an empty storefront on the town's Main Street. Together, the 180 resulting portraits represent a true portrait of the town as a whole. The installed works eventually were shown at the Smithsonian National Portrait Gallery in Washington D.C. in 2005-2006, to great acclaim. Today, the collection is part of the permanent collection at Figge Art Museum in Davenport, Iowa.
Gage Academy of Art cofounder Gary Faigin talks to Frantzen about her project, as well as the equally ambitious contemporary portraiture and allegorical painting she has pursued since.
Rose Frantzen is a nationally- and internationally-acclaimed artist known for her oil paintings from life, bringing contemporary perspectives to a traditional alla prima (or "wet-on-wet") approach. In addition to landscapes, still lifes, and figurative works, Frantzen creates serial and allegorical works that incorporate diverse stylistic elements along with gilding, stained glass, and mosaic. Her paintings have been shown in numerous museums, including the Smithsonian National Portrait Gallery and the Butler Institute of American Art, as well as in several permanent collections.
Frantzen's work has been featured in numerous national and international art magazines and journals, and she is also a frequent demonstrator, guest lecturer, and panelist who discusses art and the artist's life in the 21st century at museums and national art conventions.
Painter, critic, and author Gary Faigin is cofounder and Artistic Director of Gage Academy of Art in Seattle, as well as the school's Still Life Atelier instructor. Faigin also serves as a Lecturer in the Department of Computer Science & Engineering at the University of Washington, where he teaches facial expressions to graduate animation students and works on a research team studying the human perception of stylized facial expressions. He has taught in art schools across the country including the National Academy of Design and the Parsons School of Design. In 2001, Faigin published his first book, The Artist's Complete Guide to Facial Expression, which has since been translated into seven languages and reprinted sixteen times.
---
Presented by Town Hall Seattle and Gage Academy of Art.