Earshot Jazz Society presents
Robin Holcomb / Kelsey Mines' Compost:People
Poetic Piano and Idea-Driven Bass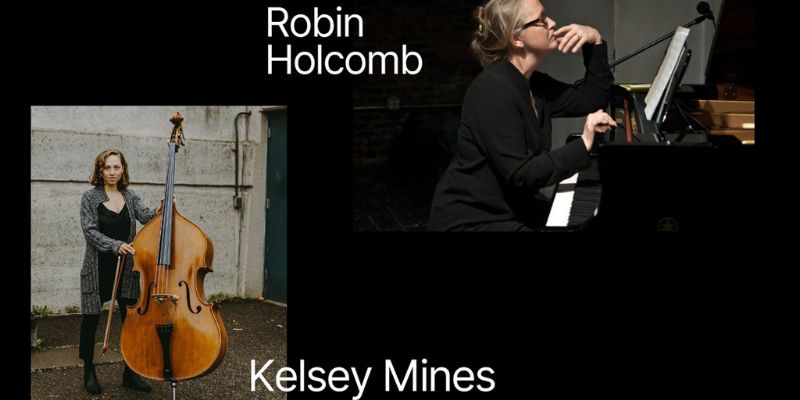 The treasured, mesmerizing pianist Robin Holcomb performs solo to celebrate her new CD and book of poetry and lyrics. Born in Savannah Georgia, Holcomb made her name in music in New York alongside Cecil Taylor, John Zorn, Bill Frisell, and Butch Morris among others. With numerous recordings under her belt, Holcomb has composed works for orchestra and is also the founder and co-director of The New York Composers Orchestra and the Washington Composers Orchestra. Now a longtime resident of Seattle her two-volume set of recordings for solo piano and voice, titled, One Way or Another, will be released in October 2022 on the Westerlies Records label.
Also appearing is composer and bassist Kelsey Mines, the Earshot Golden Ear Emerging Artist of 2019. Mines premieres her Festival-commissioned work Compost:People which addresses the toll of fossil fuels and petroleum products. Compost:People is a project of reimagining. The music reflects a dreamed, collective transition from petroleum products and fossil fuels, towards the organic, compostable and renewable. Visions of regeneration are conjured in this eight-piece chamber music work, by way of improvised, through-composed, and visual storytelling.
Joining Kelsey Mines are Aleida Gehrels on viola, Leanna Keith on flute, Walter Cano on trumpet, Jun Iida on trumpet, Beserat Tafesse on trombone, Jona Brown on piano, Greg Campbell on drums and percussion, and Colin Katagiri on visuals.
Aleida Gehrels is a Seattle based performer and recording artist.
Leanna Keith is a freelance flutist, artist, improviser, and composer in the Seattle area.
Walter Cano is a trumpet player, composer and arranger based in New York City. Jun Iida is currently a trumpet player in the Los Angeles and Southern California music scene.
Beserat Tafesse is a freelance musician in New York playing in multiple venues and working on individual projects.
Jona Brown is a classically trained Jazz Pianist, Organist and Bassist from Philadelphia.
Greg Campbell is a known jazz musician and improvisor who plays drums and percussion as well as French horn and vibes.
Colin Katagiri has worked on fixed-wing medical drones with quality inspections, computer-aided designs, hands-on build, and end of line tests.
About Earshot Jazz
Earshot Jazz cultivates a vibrant jazz community to ensure the legacy and progression of the art form by engaging audiences, celebrating artists, and supporting arts education.
Earshot Jazz COVID-19 Policy: Earshot recommends that all ticket holders be vaccinated. Masks are strongly encouraged unless actively eating or drinking. Policy subject to change. Full policy here.
---
Presented by Earshot Jazz.