Rob Reich and Jeff Raikes
Just Giving—A Conversation about Philanthropy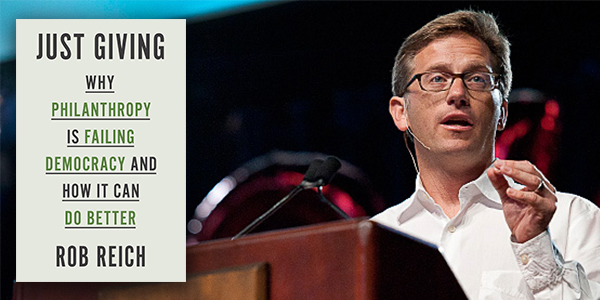 This event is sold out. There will be a standby line at the door.
---
Is philanthropy, by its very nature, a threat to today's democracy? Some believe that such generosity is not the unassailable good we think it to be, and in its current form might even be undermining democratic values and set back aspirations of justice. Political science professor Rob Reich takes Town Hall's stage to cross-examine philanthropic practices of our age. He presents insight from his book Just Giving: Why Philanthropy Is Failing Democracy and How It Can Do Better, decrying big philanthropy as an unaccountable and overly tax-advantaged exercise of power which converts private assets into public influence. Reich joins in conversation with Jeff Raikes, co-founder of the Raikes Foundation. Together they examine the policies which define philanthropy today, casting a discerning eye on the ways we could restructure organized giving to serve democracy rather than undermine it. Calling for new designs that appeal to the purpose of philanthropy—decentralization of power, funding of public goods, and patronage of scientific research and the arts—Reich and Raikes discuss new foundations to guide our organized giving, and considers what we can all do to better support democratic values and promote justice.
Rob Reich is professor of political science and faculty co-director for the Stanford Center on Philanthropy and Civil Society at Stanford University.
Jeff Raikes is the co-founder of the Raikes Foundation, and formerly served as CEO of the Bill and Melinda Gates Foundation and member of the senior leadership team at the Microsoft Corporation.
---
Presented by Town Hall Seattle.