Town Hall Seattle and UW Engage Science present
Risa Takenaka, Lucy Bowser, & Elizabeth Bonner
UW Engage Science 2023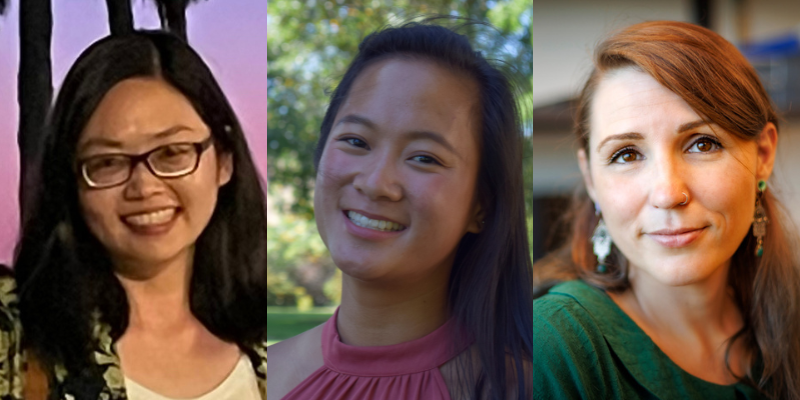 ($5 – $20 Sliding Scale)
Wednesday, May 3, 2023, 5:30PM
The Mehdi Reading Room
1119 8th Ave
Seattle, Washington 98101
This is an in-person event.
UW Engage Science sees a future where every graduate student has access to science communication training, and therefore good science communication becomes the norm. The outcome is an increased public trust and positive attitude toward science, ultimately strengthening the connection between the public and scientists. Join us for a look at the forefront of research in our region and meet the students who are leading the latest wave of scientific discovery.
---
Risa Takenaka: What fluorescent fruit flies can teach us about DNA packaging
In living things from humans to single-celled budding yeasts, proteins called histones spool and organize DNA. Given this important task, histones, and things that interact with histones, are expected to stay very similar among different living things, much like the essential parts of electronics (e.g., touchscreens on cell phones are optional, but batteries are not). However, a gene that suppresses the production of histones – an essential component that should be acting like cell phone batteries – is changing faster than expected among different species of fruit flies. Risa's research aims to uncover the consequences of this change, and how much change can be tolerated before the gene becomes too different to perform the task at hand. Understanding this process can help us decipher the kinds of changes in essential genes that are simply suboptimal, and those that could result in disease or death.
Risa Takenaka is a graduate student in the Molecular and Cellular Biology program at the University of Washington and the Fred Hutchinson Cancer Center. As an ecologist-turned-molecular-biologist, Risa is interested in understanding how evolutionary pressures have affected, and continue to affect, living things from fruit flies to humans at the genomic level.
Lucy Bowser: Using fisheries to improve global marine life protection
The wide diversity of marine life supports healthy ocean ecosystems which in turn provides us with lots of delicious seafood. However, due to numerous threats, the diversity of marine life is declining. The question then becomes: how do we balance the need to protect marine life with the need to fish? The answer may lie with certain fishermen who use fishing practices that focus on entire ecosystems, not just the fish themselves. These ecosystem-focused practices strive to safeguard both marine life and peoples' livelihoods and may just be the solution the ocean needs.
Lucy Bowser is a graduate student in the School of Marine and Environmental Affairs at the University of Washington. She works on a project that highlights how fishermen protect the diversity of marine life, a crucial component of healthy oceans and a healthy planet.
Elizabeth Bonner: Blood cancer – how good blood goes bad with age
Imagine if your blood wasn't very good at its job — it didn't carry oxygen, fight infections, or clot very well. It would make going about your daily life very difficult. Well, for certain elderly individuals, this is their reality. As some people age, they develop errors in the DNA of their blood-producing cells, turning them into cancer cells— they no longer produce blood cells effectively. But how do these errors in DNA prevent blood cell formation and is there a way to treat these bad blood producers? Elizabeth Bonner is working to understand how one specific error turns good blood bad, with the goal of developing effective treatments targeting blood cancer cells.
Elizabeth Bonner is a Ph.D. student studying age-related blood cancers at Fred Hutchison Cancer Center through the University of Washington's Molecular and Cellular Biology Program. Bonner studies the most frequent mutation found in a group of age-related blood cancers, collectively called myelodysplastic syndromes, to understand how this mutation disrupts the production of blood cells.
---
Presented by Town Hall Seattle and UW Engage Science.