Seattle Arts & Lectures presents
Rick Steves
Traveling as a Political Act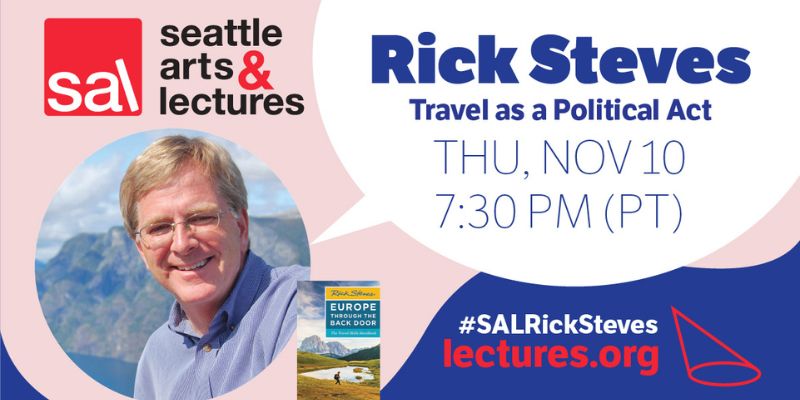 Hometown hero Rick Steves is a public television host, a best-selling guidebook author, and an outspoken activist who encourages Americans to broaden their perspectives through travel. He has dedicated his career to providing accessible information, helping Americans to have the most stress-free, cost effective, and enlightening travel experiences possible. Steves is a big proponent of "Traveling as a Political Act," the subject of his SAL talk.
In 1976, Steves began his business, Rick Steves' Europe, headquartered in Edmonds, Washington. There, he produces his iconic best-selling guidebook series, including Europe Through the Backdoor. A proponent of public access, Steves also produces a public television show as well as a weekly public radio show. Free travel information is made available from his travel center in Edmonds, and from his website, ricksteves.com.
Steves also runs a small-group tour program taking 30,000 travelers to Europe annually. In line with Steves' dedication to natural and social betterment, the company contributes annually to a portfolio of climate-smart nonprofits, essentially paying a self-imposed carbon tax.
Steves works closely with several advocacy groups and makes regular financial contributions to more than 170 organizations, including annual contributions to Bread for the World. All of the royalties for his updated copy of Travel as a Political Act are donated to this same charity. Additionally, Steves is a board member of NORML, an advocacy group which seeks to reform laws around marijuana.
Though Steves is known most for his travel excursions across Europe, in his 2009 book, Travel as a Political Act, Steves reorients his focus towards countries such as The Former Yugoslavia, El Salvador, Ethiopia, Guatemala, Turkey, Morocco, and Israel. Steves looks closely at what America could stand to learn regarding issues of democracy, health care, taxes, attitudes towards drugs, sex work, and globalization. Steves believes that being a patriot is to be critical of one's own country, continually seeking to improve the lives of its citizens.
Enrique Cerna, the Q&A moderator for the evening, is a journalist who has worked in Seattle media for nearly forty-seven years. Cerna worked for twenty-three years at Cascade Public Media's KCTS 9 and retired in February 2018 from his role as senior correspondent. Prior to joining KCTS in 1995, he worked as a reporter, producer, and host for KOMO Radio and Television and KING Television. At KCTS 9, Cerna produced and hosted award-winning current affairs programs and documentaries. He reported stories for national PBS programs, provided election analysis for the PBS NewsHour, and moderated U.S. Senate, Congressional, Gubernatorial, and Mayoral debates. In addition, he produced and reported documentaries covering critical social justice issues, the environment, and immigration. In addition, he documented the history and contributions of Latinos in Washington State. Cerna has earned ten Northwest regional Emmy awards. In 2013, he was inducted into the National Association of Television Arts and Sciences Northwest Chapter's Silver Circle for his contributions to the television industry. Cerna grew up in the central Washington community of Wapato. He is a graduate of Washington State University. In March 2020, he was appointed by Governor Jay Inslee to the Washington State University Board of Regents.
About Seattle Arts & Lectures
Seattle Arts & Lectures (SAL) cultivates transformative experiences through story and language with readers and writers of all generations. This program is part of their SAL Presents series, featuring authors, artists, and prominent thinkers discussing their latest works, as well as other exciting literary surprises. Learn more about SAL programs here.
---
Presented by Seattle Arts & Lectures.