Town Hall Seattle and the UW Taiwan Studies Arts & Culture Program presents
Richie Goods and Chien Chien
Connected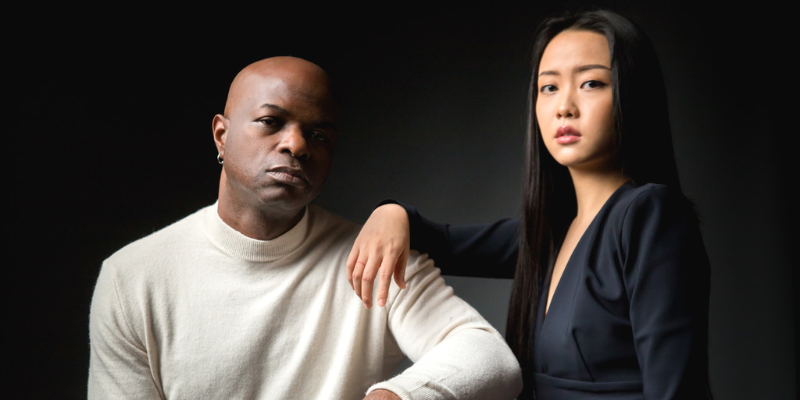 Like many people during lockdown, Richie Goods and Chien Chien started asking tough questions. Their conversations weaved through topics affecting their lives directly: the Black Lives Matter movement and the rise of hate crimes against Asian Americans. As often happens with artists, music was the catalyst that bridged the gap and resulted in a rare collaboration. Inspired by their discussions, they decided to do a project that would unify people and invoke an image of love and peace. Not only was the music they produced awesome, but their friendship deepened as they explored the stereotypical discord that often exists between the African American and Asian communities.
They decided to cement their musical relationship by creating Connected, their band featuring Richie Goods on bass, Chien Chien on vibraphone, Miki Hayama on keys, Tariqh Akoni on guitar, and Allan Mednard on drums. Together, Richie and Chien Chien create an exciting, new, energetic listening experience and attract new audiences everywhere.
NY bassist Richie Goods is one of the industry's most versatile and accomplished bass players and the youngest person ever inducted into the Pittsburgh Jazz Hall of Fame. He came to prominence while touring and recording with the late Mulgrew Miller and credits him for much of his success. Richie went on to make a name for himself through recording and touring with a variety of jazz and popular artists including Sting, The Headhunters, Louis Hayes and the Cannonball Adderley Legacy Band, Lenny White, Milt Jackson, Whitney Houston, Lisa Fischer, The Manhattan Transfer, and Christina Aguilera. Richie received critical acclaim for his multiple recordings including his 2019 release My Left Hand Man, recorded with The Goods Project, a self-produced tribute to his mentor Mulgrew Miller, which spent 36 weeks on the JazzWeek charts in 2020.
Chien Chien (Lu) is a vibraphonist, contemporary percussionist, and composer whose Taiwanese upbringing, classical music education, and passion for R&B grooves crystallize into a fresh and distinctive approach to contemporary jazz. Chien Chien's fierce authenticity and jazz mastery shine bright on her September 2020 debut solo project, The Path, which spent 20 weeks on the Jazz Week Charts Top 20. After coming to the US she received a Master of Music in Jazz Studies from the University of the Arts in Philadelphia. In 2017, she attended the prestigious Banff Jazz Residency under the direction of jazz pianist, Vijay Iye, where she met jazz trumpeter Jeremy Pelt. From there, she began to perform regularly in the U.S. and was invited to join the esteemed Jeremey Pelt Quintet where she met and began collaborating with Richie Goods.
---
Presented by Town Hall Seattle and the UW Taiwan Studies Arts & Culture Program.
Sponsored by Taiwan Academy and Ministry of Culture, Taiwan.