Richard Powers
The Overstory: A Novel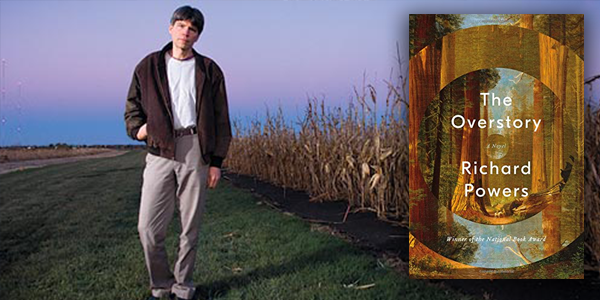 Visit our Digital Stage to read a pre-event interview with Richard Powers.
---
An Air Force loadmaster in the Vietnam War is shot out of the sky, then saved by falling into a banyan. An artist inherits a hundred years of photographic portraits, all of the same doomed American chestnut. A hearing- and speech-impaired scientist discovers that trees are communicating with one another. These characters and their struggles exemplify the sweeping, impassioned story of activism—and stunning evocation of the natural world—that is author Richard Powers' twelfth novel, The Overstory.
Powers is joined in conversation by Brangien Davis, arts critic and the new full time arts-and-culture writer at Crosscut—for an insider's discussion of his process and takes us deep into the novel's inspiration. Together they unfold the story's concentric rings of interlocking fables that range from antebellum New York to the late twentieth-century Timber Wars of the Pacific Northwest and beyond. Powers and Davis center the conversation on the vast environmental conflict taking place between humans and the inexorable, interconnected world alongside us—magnificent yet almost invisible. Powers reveals the despair of humanity's self-imposed separation from the rest of creation, introducing us to meaningfully identifiable characters who hope, as we all do, for the transformative, regenerating possibility of a reconciliation, and a homecoming. With empathetic resourcefulness, Powers and Davis invite us to learn more about the story of a handful of people who learn how to see that world and are drawn up into its unfolding catastrophe.
Richard Powers is the author of twelve novels, including Orfeo, Generosity: An Enhancement, The Echo Maker, and The Time of Our Singing. He is the recipient of a MacArthur Fellowship and the National Book Award, and he has been a Pulitzer Prize and four-time National Book Critics Circle Award finalist.
Brangien Davis is writer and editor who specializes in arts content. Over the past two decades, she has planned editorial content and written profiles, interviews, previews and in-depth stories for a variety of outlets, including Crosscut, Kultur, Amazon Kindle, Seattle Magazine (where she was the arts editor for 8 years) and The Seattle Times. She has also worked extensively as a writing instructor, book editor and arts event moderator/emcee.
Presented by Town Hall Seattle as part of the Arts & Culture and Town Green series.