Event Format:
In-Person Only
Community Alliance for Global Justice presents
Rich Appetites Film Screening & Discussion
How Big Philanthropy is Shaping the Future of Food in Africa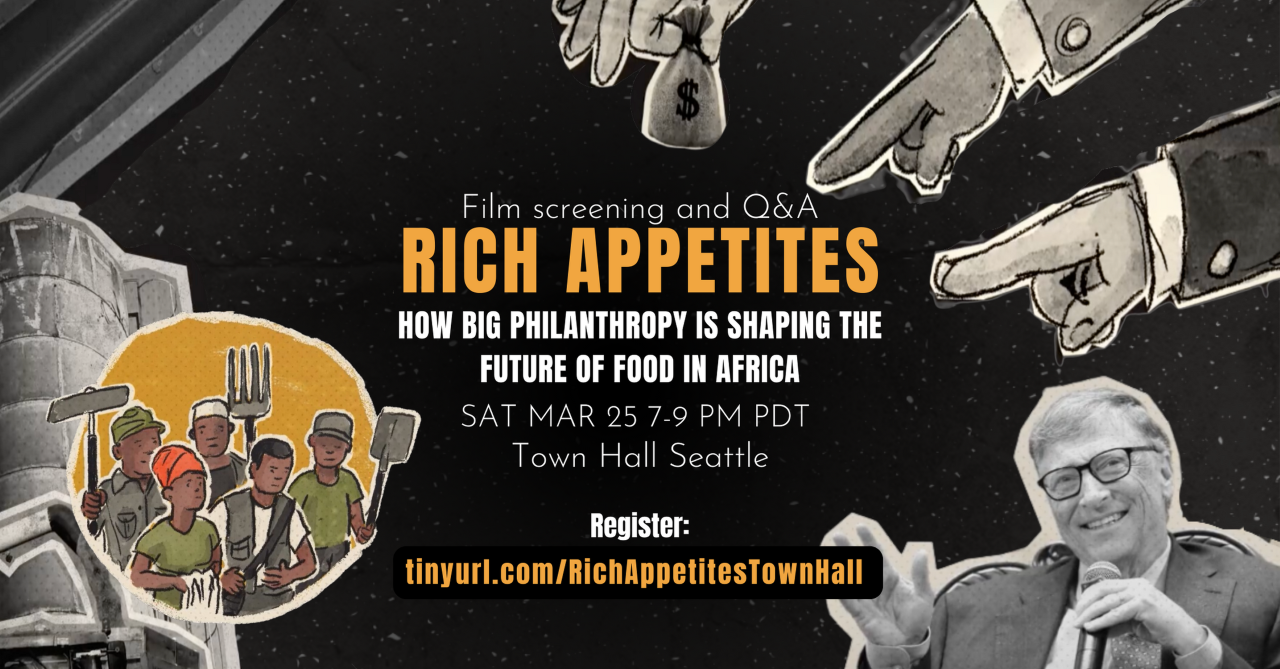 Saturday, March 25, 2023, 7:00PM
The Wyncote NW Forum
1119 8th Ave (Entrance off Seneca St.)
Seattle, Washington 98101
This is an in-person event only, no virtual attendance is available.
Rich Appetites is a short film series that explores how billionaire philanthropists are pushing US-style industrial agriculture around the globe—including in Africa.  This model of agriculture is the single largest cause of biodiversity loss worldwide, fails to solve hunger, and hurts small-scale farmers and the planet. The five films — The Foundation, Seeds, Money, Science, and Agroecology in Action — cover different aspects of the struggle over the future of African and global agriculture, and highlight grassroots movements in support of agroecology and food sovereignty.
Following the screening of the films, we will be joined for a Q&A with Kirubel Tadele, an outspoken advocate for food sovereignty in Africa, Derrick McDonald, land steward at Seattle's Black Star farmers, and Ashley Fent, of CAGJ's AGRA Watch Campaign. Their discussion will speak to the current debates over agribusiness and philanthrocapitalism, and how to build alternatives that embody care for the community and land.
---
Ashley Fent is the producer of Rich Appetites. She has 10+ years of experience as a social-environmental researcher, writer, and multimedia content producer. She holds a Ph.D. in Geography from UCLA.
Kirubel Tadele is the communications officer for the Alliance for Food Sovereignty in Africa (AFSA), a partner in the production of Rich Appetites. He has over ten years of experience in environmental advocacy and communication in both Ethiopian and international NGOs.
Derrick McDonald is a  land steward at Black Star Farmers, a community farm that operates on a mutual aid model and fights for food sovereignty in the city.
Rich Appetites is co-produced by AGRA Watch, a campaign of the Community Alliance for Global Justice, and the Alliance for Food Sovereignty in Africa. The films feature animation by Greenhouse Cartoons, a South African production company.
---
About Community Alliance for Global Justice
Community Alliance for Global Justice strengthens the global food sovereignty movement through community education and mobilization.
---
Presented by Community Alliance for Global Justice.