Replay Matinee: Mónica Guzmán
I Never Thought of It That Way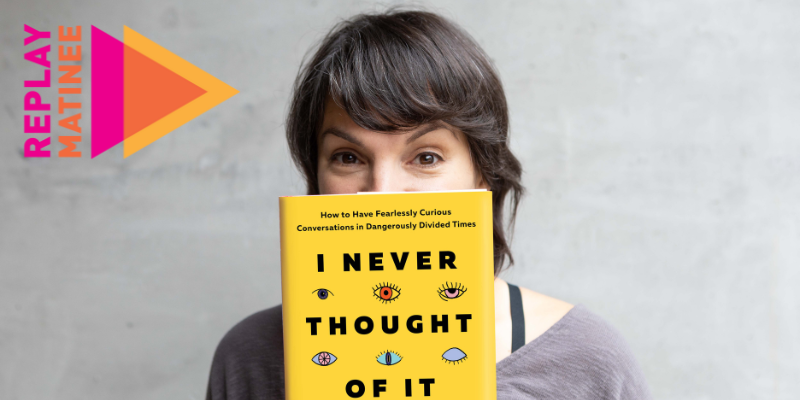 Free
Thursday, December 14, 2023, 1:30PM
The Wyncote NW Forum
1119 8th Ave (Entrance off Seneca St.)
Seattle, Washington 98101
This is a screening of our previous event with Mónica Guzmán. This event will run approximately 60 minutes.
Town Hall's new Replay Matinee series invites you to come together in our building to enjoy screenings of our greatest hits – during the day! This community program is free to all participants. 
This Replay Matinee features Mónica Guzmán, who came to the Town Hall stage in 2022 to discuss her book, I Never Thought of it That Way.
Note: this is a screening of a previous in-person event. The speakers will not be in attendance.
There's no way around it — it's a challenging time in America. Societies have lived through pandemics and political strife before, but never with powerful tools like social media and the Internet. It makes for a special brand of division that most of us have experienced in some way, from dinner table arguments with relatives to heated interactions at the grocery store. Have we forgotten how to interact and connect, despite our differences?
Journalist Mónica Guzmán knows the struggle all too well. She's the liberal daughter of Mexican immigrants who voted — twice — for Donald Trump. She's also the chief storyteller for the national cross-partisan depolarization organization Braver Angels, which works to bring Americans together and strengthen our democratic republic. When the country could no longer see straight across the political divide, Guzmán set out to cut through the fog and discovered the most eye-opening tool we're not using: our own curiosity. In her new book, I Never Thought of It That Way, Guzmán draws from conversations she's had, organized, or witnessed everywhere, from the echo chambers on social media to the raw, unfiltered fights with her family on election night. Guzmán shares how to put a natural sense of wonder to work by talking with people — rather than about them — and asking tough, meaningful questions across divides while maintaining openness and curiosity.
Together with political cartoonist David Horsey, Guzmán discusses how to overcome fear, labels, and assumptions and have human conversations with people whose identities and values are different from, or even opposed to, our own.
---
Presented by Town Hall Seattle.