Event Format:
In-Person Only
Phil Rosenthal – SOLD OUT!
Somebody Feed Phil the Book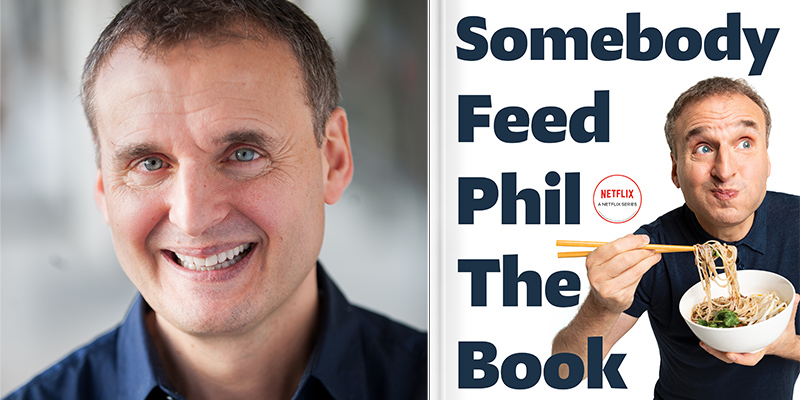 Book Add-On available at checkout – book purchase is required to access the photo line.
$5
Tuesday, October 25, 2022, 7:30PM
The Great Hall
1119 Eighth Avenue (enter on Eighth Avenue)
Seattle, WA 98101
This is an in-person event only, no virtual attendance is available.
Phil Rosenthal is perhaps best known as the creator of the long-running sitcom, Everybody Loves Raymond; but post-Raymond, he has been delighting new audiences as the host of the beloved Netflix series Somebody Feed Phil. Rosenthal loves food and learning about global cultures, and he makes sure to bring that passion to every episode of the show. Whether he's traveling stateside to foodie-favorite cities such as San Francisco or New Orleans or around the world to locations like Saigon, Tel Aviv, Rio de Janeiro, Mexico City, or Marrakesh, Rosenthal includes a healthy dose of humor to every episode — and now, to a new book.
In Somebody Feed Phil The Book: The Official Companion Book with Photos, Stories, and Favorite Recipes from Around the World, Rosenthal presents never-before-heard stories from every episode of the first four seasons of the series, "scripts" from some of his video phone calls from the road, and more than 60 of viewers' favorite recipes from acclaimed international chefs and local legends alike (including Rosenthal'​s favorite sandwich finds from San Francisco to Tel Aviv).
Phil joins us to share tasty travel tales and an abundance of laughs with Town Hall audiences.
Phil Rosenthal is the creator and host of the Emmy-nominated Somebody Feed Phil, an unscripted documentary series on Netflix, which combines his love of food and travel with his unique brand of humor. Rosenthal was born in Queens, New York, and raised in Rockland County. After graduating from Hofstra University on Long Island, where he majored in theater, he embarked on a career as an actor, writer, and director. In 1996, Rosenthal created the hit CBS comedy, Everybody Loves Raymond. He was the Showrunner/Executive Producer for all nine years of the show's very successful run, which ended in 2005. Everybody Loves Raymond was nominated for over seventy Emmy Awards and won fifteen awards, including two for Best Comedy Series in 2003 and 2005.
In April 2011, Rosenthal wrote, directed, and starred in his first feature film, Exporting Raymond, the true story about the attempt to turn Everybody Loves Raymond into a Russian sitcom, and it was met with critical acclaim. Rosenthal's first travel food series, I'll Have What Phil's Having, premiered on PBS in 2015 and received two Taste Awards as well as the 2016 James Beard Award for Best Television Program, on Location. Rosenthal lives in Los Angeles with his wife, actress Monica Horan (who played Amy on Everybody Loves Raymond), and their two children.
---
Note: Purchase of a copy of Somebody Feed Phil the Book is required to access the photo line.
Presented by Town Hall Seattle.