Penn Jillette
A Crime Caper That Leaves Everything to Chance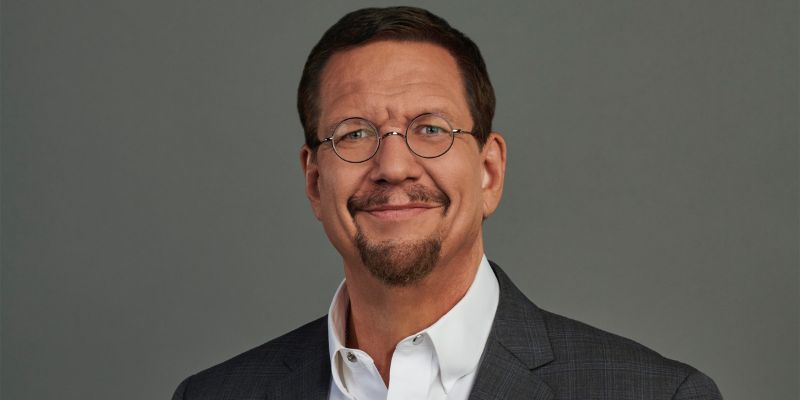 Imagine a world where decisions are decided by the roll of a pair of dice. What to eat? Roll the dice. Who to marry? Roll again. How to die, and when? Get rolling. We can only imagine how different our lives might be if we surrendered every decision to the unpredictable fall of two numbered cubes.
From Penn Jillette — yes, that Penn Jillette of the legendary duo Penn & Teller — comes Random: a crime novel that aims to bring Jillette's magic from the stage to the page, inviting readers into a caper story that explores ideas like faith and fate with irreverence, wit, and humor.
In Random, Las Vegas native Bobby Ingersoll finds out that he has inherited a crushing gambling debt from his father of ill repute, just two weeks before his twenty-first birthday. The debt is owed to the deplorable Fraser Ruphart who oversees a bottom-rung criminal empire, and Bobby's prospects of paying off the note, which is due the day he turns 21, are bleak.
In the nick of time, Bobby stumbles on enough cash to pay off the crime lord and change his family's fortune. Perhaps even more significantly, Bobby finds that he has become a "believer" of sorts. But Bobby does not consign his big break to a higher power — what Penn Jillette hero ever could? Instead, he devises and devotes himself to Random, a philosophy where his life choices are based entirely on the roll of his "lucky" dice. What follows is an amusing exploration that's less about what defines us and more about what divines us.
Random combines the intellectual curiosity of Richard Dawkins with the humor and grit of an Elmore Leonard antihero, and its protagonist is Jillette's creative solution to navigating the chaos of the post-truth era.
Penn Jillette is a cultural phenomenon as a solo personality and as half of the world-famous Emmy Award–winning magic duo Penn & Teller, whose live show spent years on Broadway and is now the longest-running headlining show in Las Vegas. The pair have their own star on the Hollywood Walk of Fame. Jillette cohosted the Showtime series Penn & Teller: Bullshit! which was nominated for thirteen Emmy Awards and won him a Writers Guild Award. He currently cohosts the CW Network competition series Penn & Teller: Fool Us! His weekly podcast, Penn's Sunday School, was the number one downloaded podcast on iTunes during its debut week and was named by iTunes as Best New Comedy Podcast. He is the author of numerous books, including the nonfiction New York Times best-selling books Presto!: How I Made Over 100 Pounds Disappear and Other Magical Tales and God No!: Signs You May Already Be an Atheist and Other Magical Tales; the novel Sock; and the essay collection Every Day Is an Atheist Holiday!
---
Presented by Town Hall Seattle.