Pedrito Martinez Group
Pushing the boundaries of Afro-Cuban percussion.
Breaking Borders: Global Rhythms 2018-2019 trailer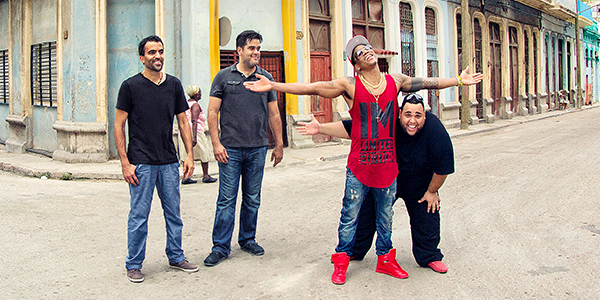 With a career that began playing $1 per month gigs with a hotel house band in Havana, Cuba, Grammy-nominee Pedro Pablo "Pedrito" Martinez has risen with meteoric verve to prominence as a world-class percussionist and bandleader. He heads the Pedrito Martinez Group, a collection of expert musicians who experiment with the boundaries of Afro-Cuban rumba and latin jazz traditions. They join us onstage for an unforgettable concert featuring their signature elated percussion and energetic vocals. Join The Pedrito Martinez Group as they continue their worldwide march to "[write] a new chapter in Cuban music history" (NPR, All Things Considered).
The Pedrito Martinez Group is a powerhouse arrangement of performers steeped in Afro-Cuban musical traditions, featuring: Pedrito's longtime collaborator Jhair Sala (an expert drummer in his own right); pianist, trumpeter, and composer Edgar Pantoja-Aleman; and pianist, percussionist, and multi-instrumentalist Sebastian Natal Nuñez.
---
Presented by Town Hall Seattle.