BAYAN, ICHRP, MALAYA, and Town Hall Seattle present
PANALIPDAN! DEFEND!
International Solidarity Mission Report-back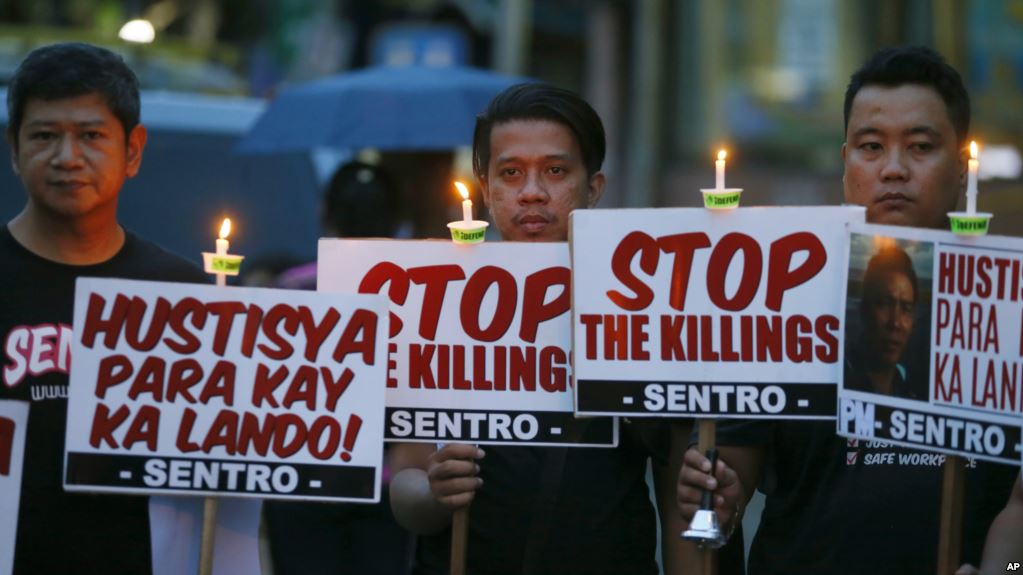 The human rights crisis in the Philippines continues to worsen under Philippine President Duterte's regime. The number of extrajudicial killings rise as innocent poor people and even faith-based leaders become victims, and estimates indicate that 14,000 that have already perished in Duterte's attacks on the Filipino people.
Panelists Pam Tau Lee, Jill Mangaliman, and Michael Alcantara report back from an international solidarity mission last November 2017, where they learned first-hand about the growing fascism and intensification of human rights violations due to Duterte's all out war on the people. These activists invite us to join them and stand in solidarity with the Filipino people and the broadest opposition to stop the killings, end U.S. military aid, and prevent another fascist dictatorship in the Philippines.
Pam Tau Lee is the chair of the newly formed International Coalition for Human Rights in the Philippines-US (ICHRP-US) and is also the chair of the Chinese Progressive Association in San Francisco. She has a long history in the peace, labor, environmental justice movements as well as being engaged in local community civic engagement organizing. Her work to build international solidarity has lead her to travel to South Africa, Slovakia, the People's' Climate Talks in Paris, and Mexico; last November she travelled to the Philippines and participated in a peace and humanitarian effort organized by the International Interfaith Humanitarian Mission and BAYAN.
Jill Mangaliman is a member of a GABRIELA Seattle, an organization working to advance the struggle of women in the overall movement for national liberation and genuine democracy in the Philippines. They have attended three international solidarity missions, in 2013, 2014, and 2017, supporting mass mobilizations such as State of the Nation (SONA) and LAKBAYAN. For six years they organized in local and national campaigns involving universal healthcare, immigrant rights, and protecting social services. In 2009, they joined Got Green, a people of color-led environmental justice organization in South Seattle, and became the Executive Director in 2014. Got Green is a member of ICHRP.
Michael Alcantara is a member of Anakbayan Seattle, a fighting youth and student political organization working to advance genuine democracy in the Philippines, for whom he currently serves as Secretary General. He visited the Philippines for the first time this past November as a part of the ICHRP international solidarity mission to Mindanao and was part of the mass mobilization in response to the ASEAN Conference and Donald Trump's visit to Manila. He also traveled on a mission trip to Belize City and a pilgrimage in Rio de Janeiro. Michael has organized alongside student activists of the Matteo Ricci College Student Coalition at Seattle University, anti-imperialists of the International League of People's Struggle (ILPS), anti-racist prison abolitionists in the #NoNewYouthJail campaign, and Water Protectors at Standing Rock.
Food and Childcare are provided.
Produced/Co-Sponsored By: BAYAN USA Pacific Northwest, International Coalition for Human Rights in the Philippines (ICHRP), MALAYA: US Movement Against Killings and Dictatorship and for Democracy in the Philippines, Town Hall Seattle.