Octavio Solis
Retablos—Stories from a Life Lived Along the Border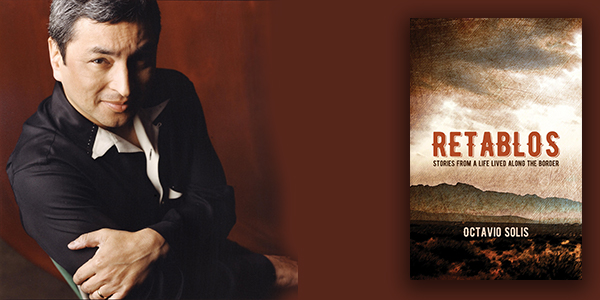 Read the pre-event interview with Solis on our blog.
---
The tradition of retablo painting dates back to the Spanish Conquest in both Mexico and the U.S. Southwest. They are humble, usually painted on repurposed metal, and in one small tableau they tell the story of a crisis and offer thanks for its successful resolution. Lauded Latino playwright Octavio Solis joins us on Town Hall's stage with his memoir Retablos—Stories from a Life Lived Along the Border, uniquely framed to mirror these traditional painted scenes. Solis recalls the rituals of childhood and rites of passage in the style of retablos: as singular, dramatic events, self-contained episodes with life-changing reverberations. He reflects on the moments of trauma and transformation that shaped him into a man—from the first terrible self-awareness of racism to inspired afternoons playing air trumpet with Herb Alpert, from an innocent game of hide-and-seek to the discovery of a Mexican girl hiding in the cotton fields. Sit in as Solis channels the memories of his youth and reveals formative moments that have informed his life, work, and imagination.
Author of over 20 plays, Octavio Solis is considered one of the most prominent Latino playwrights in America. With works that both draw on and transcend the Mexican-American experience, he examines the darkness, magic and humor of humanity with brutal honesty and intensity, crossing cultural and aesthetic boundaries.
---
Presented by Town Hall Seattle.